Hello. We were unable to find the address you requested. You may search for the content you are seeking using our search form or email technical support with any questions.



4/21/2015
5:14:40 PM
March 2015 Cartoon Caption Contest: Mountain Climbing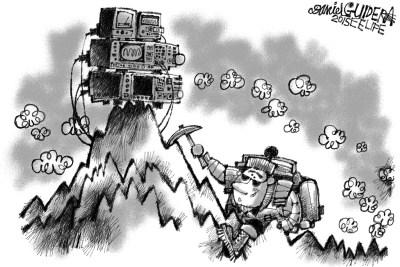 The mountain had formed millions of years before when two tektronix plates collided.

208 comments

Frankenstein's Fix, Teardowns, Sideshows, Design Contests, Reader Content & More

Last Man on Earth: How Would You Behave?
Max Maxfield 12 comments
It's no secret that I love science fiction. One of the genre's I particularly enjoy is the "something happens to almost everyone else and you are one of the few left standing" type story. ...

Is Formal Verification Artificial Intelligence?
Jin Zhang, Oski Technology Post a comment
I recently started reading a book, Super Intelligence: Paths, Dangers, Strategies, by Nick Bostrom. I was surprised to find the following text in the chapter describing state-of-the-art ...

When Coding Errors Can Kill
Rich Quinnell 4 comments
Would you trust the design of a detonator to your coding skills? How about the design of the controller running the code? Talk about safety-critical design!

Leonard Nimoy, We'll Miss you
Martin Rowe 5 comments
Like many of you, I was saddened to hear the news of Leonard Nimoy's death. His Star Trek character Mr. Spock was an inspiration to many of us who entered technical fields.
Datasheets.com Parts Search
185 million searchable parts
(please enter a part number or hit search to begin)