Hello. We were unable to find the address you requested. You may search for the content you are seeking using our search form or email technical support with any questions.





12/18/2014
6:48:08 PM

Frankenstein's Fix, Teardowns, Sideshows, Design Contests, Reader Content & More

Recommended Reads From the Engineer's Bookshelf
Max Maxfield 1 Comment
I'm not sure if I read more than most folks or not, but I do I know that I spend quite a lot of time reading. I hate to be idle, so I always have a book or two somewhere about my person -- ...

Have You Ever Been Blindsided by Your Own Design?
Aubrey Kagan 37 comments
I recently read GCHQ: The uncensored story of Britain's most sensitive intelligence agency by Richard J. Aldrich. The Government Communication Headquarters (GCHQ), Britain's equivalent of ...

No 2014 Punkin Chunkin, What Will You Do?
Martin Rowe 2 comments
American Thanksgiving is next week, and while some people watch (American) football all day, the real competition on TV has become Punkin Chunkin. But there will be no Punkin Chunkin on TV ...

Making the Grade in Industrial Design
Rich Quinnell 15 comments
As every developer knows, there are the paper specifications for a product design, and then there are the real requirements. The paper specs are dry, bland, and rigidly numeric, making ...
November 2014 Cartoon Caption Contest: We Have a Winner!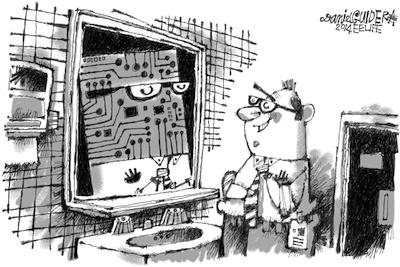 "Herman's primping in anticipation of getting probed later. Let's just hope he uses ESD protection."

2 comments
Datasheets.com Parts Search
185 million searchable parts
(please enter a part number or hit search to begin)