Hello. We were unable to find the address you requested. You may search for the content you are seeking using our search form or email technical support with any questions.
1/18/2017
8:06:05 PM
Blog
What Autonomous Driving Implies in 2017
Marc Serughetti
0 comments
As we enter 2017, the automotive industry is poised to continue delivering more electronic content in vehicles. Last year Advanced Driver Assistance Systems (ADAS) and ...

Blog
Startup Looks to Shake Up IP Paradigm
Dylan McGrath
0 comments
A novel concept in semiconductor design is taking shape that could potentially have a dramatic impact on the costs associated with prototyping and building hardware.

Blog
Intel Shows Analog Clout at ISSCC
Stephan Ohr
0 comments
Analog engineers need to feed high-end CPUs hundreds of amperes without starting fires. The Intel CPU processor has always been a challenge because it relies on as many as ...
Datasheets.com Parts Search
185 million searchable parts
(please enter a part number or hit search to begin)
Frankenstein's Fix, Teardowns, Sideshows, Design Contests, Reader Content & More

Hnaflbaflwhiflsnifltafl
Max Maxfield Post a comment
Yes. I know. I know. The last thing I need is yet another hobby project, but I'm a weak man and I cannot help myself.

How to Build DIY Switches and Potentiometers from Household Materials
Max Maxfield 11 comments
I suppose it's only fair to warn you that, it's title notwithstanding, the purpose of this column is not to tell you how to build DIY switches and potentiometers from household materials ...
Labs, 'Spaces,' and Innovation Around the World
Lindsay Craig, Consultant, Educator, Technologist, and Artist 2 comments
It doesn't take much to start a "Lab" or a "Space." Really, it's more about the need than the gear. Once someone has decided there is a need for a "Space" (often called Maker Spaces, ...

Book Review: Beautiful Minecraft by James Delaney
Max Maxfield Post a comment
Amazing as it may seem to many techno-geeks, there are still quite a few folks who either haven't heard of Minecraft, or who have heard the term, but aren't really cognizant as to what it ...
January 2017 Cartoon Caption Contest: "Rosy Resolutions"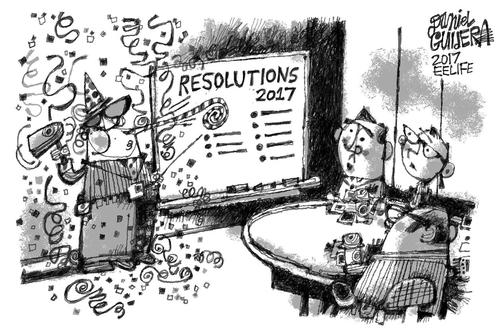 "Your caption here!"
75 comments