Audi Self-Driving Car Rides Nvidia
Nvidia's new mobile strategy
In an analyst conference after his keynote, Nvidia CEO Jen-Hsun Huang explained why cars have displaced phones at the center of his renewed mobile strategy. It's a shift Wall Streeters have been waiting to see, impatient with the company's lack of traction for its Tegra chips in smartphones and tablets.
"The future of computing is not just phones, they just happen to be the segment that was growing really fast," said Huang. "If you go forward far enough, mobile just means a small, energy-efficient computer connected to the cloud -- your car and vacuum cleaner will be mobile computers."
Nvidia's mobile strategy is "about a lot more than phones," Huang said. Indeed, the car is a new center of that strategy.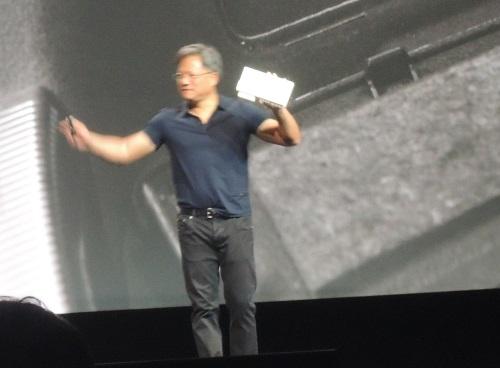 "The car is going to be the most amazing robot we own. Future cars will be computers-first with four wheels, and they will do things most computers can't or maybe never will."
Nvidia is the only processor company in all three automotive segments -- infotainment, digital clusters, and driver assistance -- Huang claimed. Going forward, Nvidia's investments will focus on automotive, GPUs in cloud computing, and its Tesla processors for machine learning.
Nvidia's revenues were about flat last year while profits fell about 30%. The company's maturing PC business was actually up 8% while its Tegra mobile chip business fell as much as 50%.
Clearly Qualcomm and others have won the smartphone and tablet sockets. "People want to see Nvidia stop investing in handsets," said one Wall Streeter speaking before the analyst meeting.
Next page: A look at Audi's self-driving car
— Rick Merritt, Silicon Valley Bureau Chief, EE Times

Related posts: