Ericsson Retunes Radio for $4B Small Cell Market
SAN JOSE, Calif. — Ericsson announced a base station radio the size of a smoke detector that aims to significantly lower costs of deploying indoor cellular networks. The Radio Dot System aims to disrupt one the fastest growing markets in wireless infrastructure pegged at $4 billion by 2018.
The Radio Dot is a simplified 3G/LTE antenna unit with an amplifier and power amp. It uses a proprietary Ericsson interface to connect over standard office Category 5/6/7 cables to an indoor base station that handles most of the signal processing.
Using the approach, a single base station linked to as many as 96 Radio Dots could cover a large office or hospital. By employing existing office LAN cabling rather than fibre optic cables, Ericsson claims the system can save up to 60 percent of cable costs and cut installation time by 70 percent.
The 300 gram Dots emit 100 milliwatts effective radiated power each to cover 500 to 800 meters with higher power versions in the works. They appear to the base station as one large cell and allow handovers between Dots for users moving inside a building.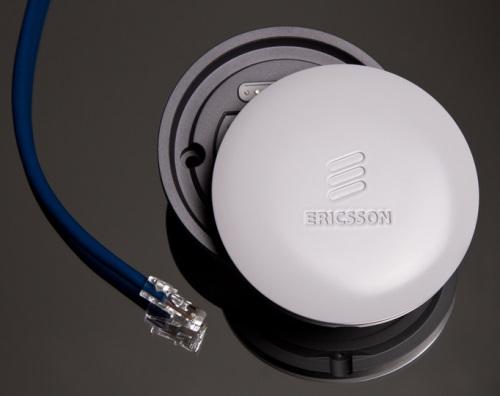 Ulf Ewaldsson, Ericsson's chief technology officer, said in an interview with EE Times that when in LTE mode the system reduces interference in conventional indoor systems, saving carrier spectrum. For example, the system can use the LTE Release 10 Coordinated Multipoint feature to support data transfers using parallel transmissions from small and macro cells, expediting the delivery of large files such as a YouTube video.
Radio Dot has been in development for two years and is backed up by 14 patents, many of them on its cabled interface. "We think this will redefine the small cell space," said Ewaldsson.
Many small cells integrate radio and baseband functions. But that makes upgrades more expensive when baseband standards change, he added.

Analyst calls it a latecomer

The Radio Dot will go into customer trials before June and ship in volume in the second half of 2014. "It's running in the lab where we're working on testing it," said Ewaldsson.
"We came out with this now because it will make a lot of changes to the small cell market, and we need to let our customers plan for it," Ewaldsson said. "Most operators make one-year plans so they are working on their 2014 investments," he said.
Nick Marshall, a wireless analyst at ABI Research, said Ericsson is relatively late to the market with small cell for indoor users. Alcatel-Lucent came out early with its palm-sized LightRadio.
Cisco, Huawei, and others are expected to ship new indoor cellular systems before the Radio Dot, he said. Vodaphone Netherlands is already deploying the E-RAN system from SpiderCloud, he added. Revenue for these so-called enterprise femtocell systems is growing at a 50 percent compound rate to $2 billion by 2018, ABI estimates.
A number of other vendors -- including Corning/Mobile Access, CommScope, TE Connectivity, and Axell Wireless -- are selling distributed antenna systems using fibre. However that market is only grwoing at about 14 percent to reach a similar $2 billion revenues by 2018, ABI forecasts.
Radio Dot "is an interesting approach to the user density and data rate challenges facing all operators globally," said Stephen Turnbull, a marketing manager in the wireless division of Freescale Semiconductor. "At this juncture there is not a standard approach to solve these issues, nor even consensus across the operator community -- this makes for a very exciting time," he said
Related posts: