Power Week-in-Review: 'Superlens' Extends Wireless Power, Precision Power Scope & Free Battery Dev Code
Researchers at Duke University's Pratt School of Engineering have developed a metamaterial "superlens" that -- by focusing low-frequency magnetic fields -- is able to achieve magneto-inductive wireless power transfer over distances many times greater than the size of the receiver and transmitter coils. The square-shaped superlens is comprised of hollow cubes whose exterior and interior walls are etched with spiraling copper wire (see figures below). Plans are in the works to build a dynamically tunable version, making it more feasible for practical power transfer applications. For more, see the complete paper at Nature's site: "Magnetic Metamaterial Superlens for Increased Range Wireless Power Transfer."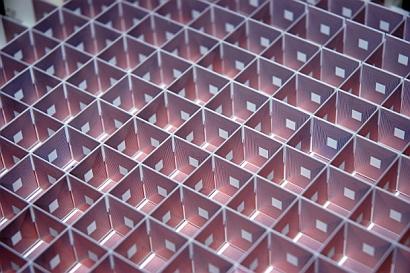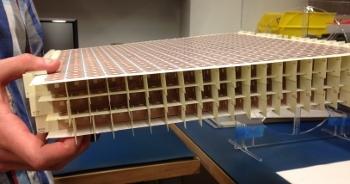 A team of researchers at Washington University in St. Louis has developed freely available code designed to help lithium-ion battery developers determine the feasibility of new materials early in the battery design process. The Windows-based battery modeling code combines stress effects with optimization algorithms to help battery designers predict how a battery will work.
A report from research firm Navigant Research forecasts that worldwide vendor revenue from microgrids will grow to $19.9 billion in 2020 from $4.3 billion last year. The report, "Microgrids," predicts that they are rapidly moving from a technology-validation phase to one of commercial viability, as markets look to bolster the reliability of the power grid at the distribution level of electricity service.
In product news, Vicor has unveiled its first power modules based on the company's Converter housed in Package (ChiP) platform. The new ChiP BCM fixed-ratio power converters supply 1.2 kW at 48 V with 98% peak efficiency and a 1,880-W/in3 power density.
Linear Technology has announced a 16-A micromodule regulator with a configurable output offering the flexibility for powering FPGAs and ASICs. The LTM4644 quad dc/dc step-down µModule offers 4 A per output (16 A paralleled) and operates over an input range of 4 to 14 V, or 2.375 to 14 V with an external bias supply.
Exar has introduced the XRP9710 and XRP9711 multi-output, synchronous step-down, programmable power modules. They are claimed to offer the industry's highest power density and lowest profile (2.75 mm) with 5 to 22-V inputs.
Yokogawa has announced a Precision Power Scope, which is claimed to bring oscilloscope-style, time-based measurement to the world of power measurement. The PX8000 features a 12-bit resolution with 100 MS/s sampling and 20 MHz in bandwidth. It is designed to enable precise capture of voltage and current waveforms for emerging power-measurement applications.
Tektronix has announced an expansion of its line of precision power analyzers. The PA1000 single-phase power analyzer features a color graphical display, one-button application modes, and an intuitive menu system, as well as PWRVIEW PC software with comprehensive reporting features.
A new low-resistance dual N-channel MOSFET from Toshiba Electronics is designed for power management applications in mobile devices. The SSM6N58NU MOSFET has an RDS (on) of 67 mΩ (at VGS = 4.5 V) and maximum dc and pulsed drain currents of 4 and 10 A, respectively.
Finally, Vishay has announced an SO-8-packaged P-channel MOSFET optimized for load and battery switches in notebook computers. The 20-V Si7157DP has an on-resistance of 0.0016 and 0.0020 Ω at –10 and –4.5 V, respectively.