Electron Spin Could Yield PCs That Run Fast While Turned Off
Using non-volatile memory to replace volatile, the team argued, would allow computers to operate "normally off." Without the need to keep electricity flowing into volatile memory, a computer could sit without using any power at all during the short period of inactivity such as the interval between the keystrokes while a user types, as well as longer intervals when users are away from the keyboard entirely.
If they are developed far enough to match the speed and capacity of existing volatile memory, non-volatile RAM could save billions in the cost of power, batteries, and power-related accessories as well as the lost productivity of users with dead batteries and nowhere to plug in a charger.
Non-volatile memory would allow both power-sipping mobile devices and the laptops or desktops that are comparative energy hogs to run from trickles of power from solar cells, hand-cranked dynamos, or other alternative sources of power.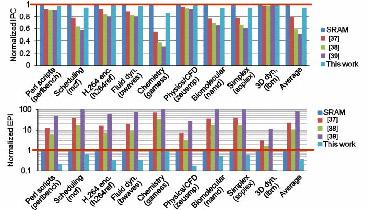 Making this possible requires MRAM, STT-MRAM, or other non-volatile memory to reduce access times to as low as 10-nanoseconds and increase their density to at least the one-gigabit-per-chip range, according to the authors, who represent Japan's National Institute of Advanced Industrial Science and Technology, Toshiba Corp., Kawasaki, and the universities of Osaka, Chofu, and Tohoku.
In May last year, researchers at the University of Delaware offered physical proof for the first time that electrons generate a magnetic field that can be manipulated to start, stop or manage the direction of their spin.
In January 2014, researchers at the University of Cambridge found that the natural spin of electrons can be identified and controlled using superconductors rather than power-sucking electro-magnetic coils, which had been the only way to set the particles spinning prior to this time.
In January 2013, another Japanese team discovered a way to tell in which direction the electrons were spinning from as far as 10 micrometers away -- a detection method that could be used to create spin translators and spin-logic devices for future computers, according to the authors. Results like these show the dramatically rapid progress that academic and commercial researchers have made during the 13 years spintronics has been researched intensively. But the technology itself is "still decades away" from being as powerful or flexible as it would need to be to take over completely from existing volatile memory, according to a review by researchers from North Carolina State University in the October 2010 issue of IEEE Spectrum.