Intel Shows 2.5D FPGA at ISSCC
Zen squeezes x86 area and power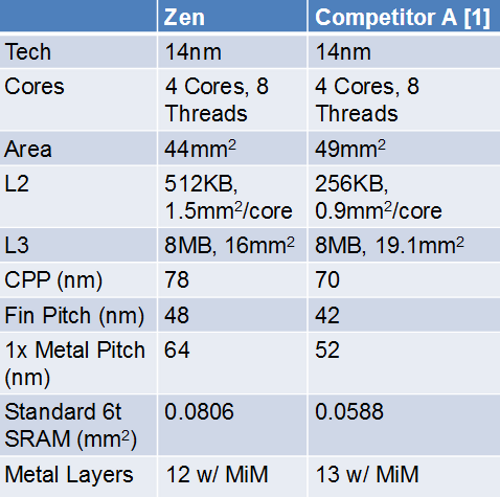 In a separate paper, AMD said its upcoming Zen x86 core fits into a 10 percent smaller die area than Intel's currently shipping second-generation 14nm processor. Analysts and even Intel engineers in the session said the Zen core is clearly competitive though many confidential variables will determine whether the die advantage translates into lower cost for AMD.
The paper detailed techniques AMD used to reduce switching capacitance by 15 percent compared to its existing chips. For example, Zen marked AMD's first use of a metal-insulator-metal capacitor which helped lower operating voltages and provide greater per-core voltage and frequency control.
Engineers tracked on a weekly basis power benchmarks on high activity regions for more than a year to reduce switching capacitance. The company now has two eight-core designs running with simultaneous multithreading at 3.4 GHz.
For its part, Mediatek described a ten-core smartphone SoC made in a 10nm process.
The chip uses a new cluster of three ARM Cortex A-35 cores to handle ultra-low power jobs such as video and MP3 playback. Engineers designed a new kind of program counter it embedded in each core to ease the job of debugging the chip.
The effort showed solid design skills, said Kevin Krewell of market watcher Tirias Research. However he noted it will have to compete with rival Qualcomm's Snapdragon 835 which sports a wider range of custom cores for graphics, imaging and other jobs.
— Rick Merritt, Silicon Valley Bureau Chief, EE Times

Related posts: