zero sum game

eewiz
7/18/2013 1:34:30 PM
It looks like, its kind of a zero sum game for Intel... If intel wins the 30$ mobile CPU race by competing with ARM in speed, it will lose its 300$ notebook/desktop CPU business as people will have no/less reason to buy a notebook, which makes much higher margins for Intel.

Intel's best option is to compete with ARM only in power consumption, by keeping its mobile CPU performance at the same level as of ARM's topline. Thisway if the competition becomes mostly about power consumption, then there will be a safe gap between performance of a mobile device and notebook that people will still feel the need for a more powerful notebook/desktop.




It is interesting to hear CEO Brian Krzanich say that Intel will leave no computing stone unturned and plans to be the best in ultra-mobile computing.

It's probably going to take a while before it shows up in Intel's numbers.

Also interesting to note the drop in capex forecast. I would luv to know what Intel's manufacturiing capacity utilization is like at present.






I was surprised by the drop in the capex forecast. With all Intel has going, I think a lot of people hoped it would hold steady or go the other way. It's a big blow to the equipment industry that Intel is taking $1 billion off the table.


Re: zero sum game

DMcCunney
7/20/2013 9:40:11 AM
I was surprised by the drop in the capex forecast.

I'm not. This has been happening as long as I've been paying attention. Intel (and other capital intensive outfits) drop capex when there is a drop in sales/revenue/profit. Capex is an expense, and when your numbers are off you look to cut expenses. When things improve, you boost them again.


We don't know what Intel's priorities are, so we can't know precisely which projects are affected, but I suspect Intel has a methodology for determining what efforts get reduced/dropped when they feel they need to make cuts.




Agreed, DCMcCunney. I'd be very surprised if a company with lousy earnings increased it CapEx, unless it announces a bold new strategy. I love it when that happens -- it becomes fun to watch -- but that's not what i happening with Intel.


No doubt Intel has a very precise methodology for determining when to make cuts. So clearly something is not hitting its target, and as you say we don't know what it is. I had just been optimistically thinking that things were turning up for Intal and the industry as a whole.


Re: zero sum game

DMcCunney
7/22/2013 12:59:40 PM
No doubt Intel has a very precise methodology for determining when to make cuts.

Not so much when to make cuts, as what cuts to make.

R&D expenditures are a portion of total expenses. Whan revenues and profits are off, you look to cut expenses to bring them in line with revenues, and R&D expenditures will be a target to reduce.

What isn't hitting its target is overall revenue and profit, so cuts get made.

Like any other high-tech player, Intel will have a number of R&D irons in the fire, working on what might become future products or improvements in underlying technology. At a guess, the ones dropped/postponed will be the more speculative efforts with a longer timeline to bring to fruition.

I had just been optimistically thinking that things were turning up for Intal and the industry as a whole.


Hope springs eternal and all, but the industry is cyclic. Any capital intensive industry will be. They tend to "boom and bust" cycles, depending upon the state of the overall economy they are in.

The industry overall seems to be doing well enough, but the segment Intel is in is not. The uses to which the technology are put have been shifting to areas where Intel has historically not been competitive, and Intel is playing catchup. When the market for chips is increasingly in devices where power is the scarce resource and power consumption is a critical factor, and your chips simply use more power to perform an equivalent task than your competition, you have problems.

And the nature of the market means that those problems can't be addressed quickly. Intel is probably refining it's low-power Atom cores for all it's worth to catch up with ARM, but the whole ARM architecture already has a strong market position and an ecosystem built around it. Intel isn't going to get an Atom design win in a product currently based on ARM, because making the move would be a "throw out the baby with the bathwater" move for a vendor which did it.


Re: zero sum game

chanj0
7/18/2013 7:54:19 PM
Zero sum game is a very interesting thought of the tablet and pc market. If it is indeed true or just close to the reality, what will Intel do?


The fact is the powerful the CPU is; the fewer servers will be used. Today webserver can server way more connections than those used 10, 15 years ago. Virtualization certanly is one of the biggest contributors to the fall of sales.

Gaming is used to being one of the driving force of an upgrade. With the popularity of mobile gaming (tablet and smartphone), I can see hi-end games get hitted. The trend of game has been changing as well that game with social networking content trends to gain more attention than the "old-fashion" shooting game or RPG.



With all these factors in place, the fall of revenue and profit seem to be inevitable. There seems to be a while for CPU market to come back. In the meantime, what will Intel do?


@chanj0: Your point about gaming is well taken. While many are playing on tablets, some of the most popular games, online ones with a social component, (at least in my house) still 'are best enjoyed' with the graphics card and audio capabilities of a PC. However, I also see many college students enjoying their games just fine on a laptop...


Intel's choice

chipmonk0
7/19/2013 10:38:45 AM
Where Intel has been falling behind is in Design - not Device manufacturing. This requires a top echelon ready to not just tweak legacy Architecturesw but make bold moves into competitive new Architectures, This is why Intel's choice for a CEO seems so counter - intuitive. At times like these management by consensus can be far more damaging than bold initiatives.


You really think Intel has fallen behind on its design? I thought the choice of Krzanich was the safe choice. And no matter what, Intel needs to protect its process technology crown jewel.


Re: Intel's choice

chipmonk0
7/19/2013 6:53:53 PM
has n't that been very clear for 3 or 4 years now ? why else aren't Atoms selling against ARM ?


OK, good point. Atom hasn't caught up to ARM, and you would have to chalk that up to design. You are correct.


Infact not only Atom but virtually anything that Intel has been working on has actually not materialized as the company intended. There were lots of talk about Atom but the competition with ARM processors is yet to be seen.


@Janine



I may be an outlying case ...... but I have had a laptop since about 1990 and I though that was roughly when computers with side boxes (and floppy disk drives) disappeared.

The main change i have seen is that the laptop personal computer has become the notebook personal computer (amidst huge unit growth)...and now the notebook PC has become threatened by the desire for the tablet computer.

if we continued to lump notebook and tablet computers together the market ramp would probably look good. But when market analysts choose to divide the market between mobile devices (smartphones and tablets) and PCs (notebooks and earlier manifestations)....it highlights the flat to down nature of the Wintel world and the up and to the right nature of Linux, Android and all things portable.




I agree that if we lump in tablets with PCs, the market does look good. Growing in fact. I know at least one of the market research firms (Gartner) does a forecast like that.



http://www.gartner.com/newsroom/id/2408515


On the other hand it is quite reasonable and meaningful to divide the sectors.

One is dominated by Wintel and seems to be on the retreat.



The mobile device sector is more open although Apple, Google, Android, ARM, Linux, Samsung, Qualcomm and more besides are prominent and successful there


Come to think of it, it might actually make more sense to lump tablets in with traditional PCs in terms of forecasting. Obviously, PCs tend to cost more (though not that much in some cases- I know you can get a laptop for less money than a top of the line iPad). But PC margins are razor thin. I'm sure tablet margins are too. I would think the semiconductor content is similar, right?


Better to just have separate data for entry-level phones, feature phones, smartphones, tablet computers and notebook computers.

Then individusals can read and interpret the data; adding groups together as it makes sense to them.


Re: zero sum game

DMcCunney
7/20/2013 10:47:28 AM
But PC margins are razor thin. I'm sure tablet margins are too. I would think the semiconductor content is similar, right?

I think so.


The trend in any product market is commoditization. The original IBM-PC provides a good example. The earliest PCs were expensive. I recall an employer back in the late 70's, when PCs were first appearing on the corporate desktop. A new PC popped up in my area, with a (gasp!) 5MB harddrive. As I recall, the drive alone cost $5K. But the PC defined a standard, and others designed to it. Many vendors got into the PC market. We reached the point where we are now: given specs, it largely doesn't matter whose name is on the box, and the purchase decision comes down to price, with the lowest cost producer winning.

Tablets are recapitulating that market even faster, though the name on the box still carries more weight than it does in the PC market, Apple has staked out the high end of the markets it's in, and commands a substantial price premium.

The semi-conductor market is the classic capital intensive industry. The single biggest cost is the fab to make the chips, and the biggest component of the cost of a chip is an allocated share of the cost of building the fab. The more chips you produce, the smaller that allocated overhead can be, and the cheaper you can sell the chip.

It means that if you build a fab, you need to make and sell a lot of chips, simply to generate the revenue to cover costs and keep the fab in operation. It's why more and more companies are going fabless, and we're seeing increasing joint ventures among those who haven't. As migration occurs to progressively smaller process geometries, the cost of a fab skyrockets, and very few players can afford to build one.

In the consumer electronics market, you areguably can't make money on the hardware you sell to the user. The value is in what the user can do with it, and that's defined by software.


Re: zero sum game

DMcCunney
7/20/2013 9:50:50 AM
Virtualization certanly is one of the biggest contributors to the fall of sales.
And one
going on for some time.
Folks running servers want to drop costs,
and everyone is realizing server utilization
could be improved.
If you can make better use of the servers you
have
,
you don't need to buy new ones as often
. And the more servers ou have, the higher your power bills, and data center power costs are an increasingly large factor.
Gaming is used to being one of the driving force of an upgrade.
But Intel gets benefit from that only as a side-effect. For high-end gamers, the video card is for more important than the CPU, and Intel has never neen a leader in that area. Intel's graphics have historically been poor.

In the meantime, what will Intel do?
What it's doing - hunker down, cut expenses, and wait for a recovery in the market.

times have changed

JanineLove
7/18/2013 2:10:11 PM
"fast growing ultra-mobile market segment": I see the statistics on the growing mobile/tablet market all the time. But, it is becoming very evident in my highly techie family. Both parents have moved exclusively to laptops/smartphones and both teenagers are using tablets. The desktop workhorses in our home/office seem to only be used for gaming now...The importance of this market really can no longer be ignored.


Re: times have changed

jaybus0
7/19/2013 8:36:10 AM
Certainly there is a huge market for smartphones and tablets. However, I'm not so certain it is due to people replacing PCs with smartphones. There simply are a lot of smartphone/tablet users who did not previously have a PC. Or where there was a shared household PC it has been supplemented with individual smartphoes/tablets due to lower cost of entry. There has been a huge gain in the actual number of computing devices being used and therefore hard to say how many tablets have "replaced" PCs.

Indeed, like you parents, many people are replacing a PC with a laptop/smartphone combination. But that laptop/ultrabook has a Core i5 or Core i7 and is essentially just a smaller, more portable PC. And so we see Intel's profit margin falling due to competition, but a key factor that seems to be being overlooked is that net revenue was up slightly. They sold just as many chips, if not more. They just didn't make as much money on them. If you consider the ultrabook just a more portable PC, then the PC era is still a long way from over.


Remarkably, Intel shares have been in the same trading range (give or take $5) since the recession began. They're now back at 2009 levels, in the middle of that range. That's dead money for investors and the challenges facing the company are widely known. Still, one has to look at the broader tech sector to gain a full appreciation for that is happening. Here's a tweet this afternoon from Trish Regan over at MarketWatch.com. It's a good question she asks:

Earnings misses from $GOOG + $MSFT... on the heels of misses at
$INTC, $IBM, + $EBAY. What's going on in tech ?


Using Intel's guidance for 3Q13 at +5% and flat for the entire year, the company's 4Q/3Q growth this year needs to be +7%. Considering Intel's performance in the fourth quarter over the past three years, +3% in 2010, -2% in 2011, and 0% in 2012, this guidance looks very optimistic!


Re: Intel Guidance

Tom Murphy
7/18/2013 9:07:45 PM
BMC: Great analysis. Thank you for working the numbers. I concur it seems highly doubtful that Intel could pick up that kind of growth in the latter half of this year -- there just doesn't seem to be anything in the Western Hemisphere growing at that rate.


Wow, that's a scary thought Bill. When you put it that way, it does seem awfully optimistic. I hope Intel is not setting itself up for the dreaded "earnings miss."


Not much sympathy

daleste
7/18/2013 8:27:40 PM
Only $2B in profit for the quarter. They may be flat to down, but they have a long way to fall and a lot of cash for cushion.


Re: Not much sympathy

Tom Murphy
7/18/2013 9:06:14 PM
Daleste: That's a really good point. $2 bln isn't chump change. The question is can it be sustained and improved over the long term. We've seen big tech companies shrink to almost nothing and come back (Apple, ca. 1998) and we've seen others just shrink and shrink (Yahoo). But I tend to think Intel doesn't fall into either camp. I smell a spinoff coming up there, and maybe at HP, too.


Great point Daleste. It's funny how the market works sometimes. Intel's stock price took a hit after this. They made $2 billion. That's not chump change.


Re: Not much sympathy

DMcCunney
7/20/2013 11:49:08 PM
No, but it's symptomatic of the current market.

The market wants growth, and rewards it with a high stock price. If you don't show growth, your stock price gets hammered, and it doesn't matter what sort of money you made.

Intel's stock will continue to languish because they aren't showing growth, and face the challenge of where to find it.


Re: Not much sympathy

Tom Murphy
7/21/2013 12:28:11 AM
Well, that's almost right, DMc. The market prices shares based on anticipated future return on the investment -- the yield on the investment. And I think that's a pretty fair way to do it. If I can get 10% from company A, but only 5% from company B, then I'll invest in A. (Yield, of course, also includes any dividend in addition to share-price appreciation)

Apple shares lost 38 percent recently due to the likelihood its growth is slowing, and Intel is drifting back into the doldrums, so I'm not surprised to see either stock fall. The hard question is: where should investors put their money these days? Real estate is doing very well, and that has drawn some of the more speculative money away from the highly volatile tech sector.

Not related, but there's an interesting essay in Barron's today about how stocks are near an all-time high, while the municipal bond market (traditionally a fairly safe haven) is being rocked by the bankruptcy in Detroit and the growing pension crisis in other cities. Who would have ever thought that municipal bonds would be riskier than stocks?


Re: Not much sympathy

DMcCunney
7/21/2013 9:51:03 AM
I know how the market is supposed to value a stock. But share price is more linked to growth than anything else. You can have strong revenues and high profits and take a beating on your share price because you aren't showing growth. Many investors value capital gains far more than dividends and get them through growth.

I'm not surprised at Apple's stock decline and have been predicting it. They got a stock price in the ionosphere on the basis of category defining products that created new markets. But Apple has historically staked out the high ground in markets they address where thy can charge the highest prtices and make the biggert profits. There is evidence of saturation in the markets they address, and my assumption was that if Apple didn't have another category defining product that would create a whole new market up it's sleeve, their stock would tumble.

If they have one, thus far they haven't unveiled it.


Re: Not much sympathy

Tom Murphy
7/21/2013 11:45:42 AM
I think when talking about stock valuation, we also have to look at maturity. Since the early 80s, with the launch of personal computers and related software, young tech companies were valued for stock appreciation. As the larger tech companies grew to giants with multibillion-dollar revenue, it naturally becomes harder to grow them at a rate of 20 or 30 percent a year. A young tech company would be thrilled with $1 billion in new revenue, and its stock would soar, but Apple investors say growth is slowing, and the stock goes down. So Apple and others do what other mature companies do: they pay dividends that increase return to investors and gives them another reason to own the stock. Investors, then, can compare them to General Mills and determine which is a safer investment based on return. Apple has the disadvantage of looking riskier because it retains the label "tech company."

But in the minds of tech investors, Apple still competing with younger, faster-growing tech companies, and investors who look for appreciation alone will choose the riskier, faster-growing companies.

The bottom line is that I think companies like Apple, Intel, Yahoo, and Microsoft end up with a worst of both worlds scenario. They're shunned by many tech investors who are thrilled by fast-appreciation in stock price and shunned by traditional investors who view tech companies as the daredevil cousins of mainstream corporations.

Where to go from there? As DMcCunney notes, Apple could introduce another big thing (the iWatch might not be enough), or in my estimation, it could turn into a pretty boring company as far as investment goes. That may not matter for a long time; the company has a lot of cash. But it doesn't bode well for the Apple of 2025, if there is one.


Re: Not much sympathy

DMcCunney
7/21/2013 3:09:41 PM
The bottom line is that I think companies like Apple, Intel, Yahoo, and Microsoft end up with a worst of both worlds scenario. They're shunned by many tech investors who are thrilled by fast-appreciation in stock price and shunned by traditional investors who view tech companies as the daredevil cousins of mainstream corporations.


This is not unique to tech companies, and Microsoft is a poster child for the issue.

Growth companies get lofty stock prices based on the growth, and investors like them because of the capital gains they can get on the appreciation of their stock price.

But in any industry, consolidation occurs, till you are left with two or three big boys who dominate the market, and an assortment of smaller players addressing niches the big boys don't find profitable. Mature companies like that throw off gobs of cash, but don't have stock valus in th stratosphere.

When you trasnsition from growth to mature company, your stock price takes a beating, and investors whose interest is growth and capital gains are unhappy with you and make their displeasure known.

Bill Gates picked an appropriate time to step aside at Microsoft: he went out a winner, having built MS into a dominant company in its industry, and became for a time the richest man in the world. But the markets MS served were saturated and further growth was increasingly hard to come by. Steve Ballmer was left holding the bag and trying to support the stock price, and can't. (To be fair, I don't think anyone else could either.)

One issue confronting any CEO is that the interests of the firm and the interests of the shareholders are not always identical. The CEO want the company to survive, and still be there in ten years or twenty years. Investors want results now, and what they desire in the short term interest can be against the long term interest of the enterprise in which they hold shares.

I'm confident Apple will still be around down the road. Aside from a mountain of cash, they have a solid core business, revenues, and profits. They are simply unlikely to find further growth, nd I don't see the iWatch providing it.





Datasheets.com Parts Search
185 million searchable parts
(please enter a part number or hit search to begin)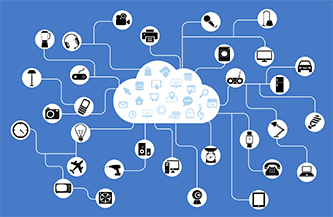 What are the engineering and design challenges in creating successful IoT devices? These devices are usually small, resource-constrained electronics designed to sense, collect, send, and/or interpret data. Some of the devices need to be smart enough to act upon data in real time, 24/7. Are the design challenges the same as with embedded systems, but with a little developer- and IT-skills added in? What do engineers need to know? Rick Merritt talks with two experts about the tools and best options for designing IoT devices in 2016. Specifically the guests will discuss sensors, security, and lessons from IoT deployments.