This is really cool. I am very impressed by all of these projects. It's wonderful to see that people are doing such innovative and creative things with Raspberry Pi. I especially love the retro phones stereo control, the Atari emulator and, of course, the R2D2 (who doesn't?)


Some nice little tutorials on these pages. The word is books are being written as teaching material on the Raspberry Pi as platform for a variety of subjects, so hopefully we're poised to see it take off in computer science classes.


Re: Awesome

selinz
7/27/2013 6:49:08 PM
Cool Stuff! I want to know how many emails the dog has got since this has been posted. Perhaps we can watch the dog get fatter over time! I also appreciate the tomato tenderer. Definitely need that...


I have no idea, but it would be hillarious to sign that email address up to some spam lists. The dog would be quite pleased!


Re: Awesome

kfield
7/29/2013 5:18:24 PM
@selinz See my comment in this thread. I emailed Judd, and he replied that the system isn't working. Maybe the barrage of emails was so massive that the owner had to shut it off temporarily, for Judd to recover.


The atari emulator inside the cartridge is probably my favorite. It looks great and I'm sure it is a lot of fun.


Raspberry Pi at Design West

kfield
7/27/2013 9:35:56 AM
Thanks for sharing these cool projects. Coming off of our hugely popular Raspberry Pi hands on workshops at DESIGN West 2014, we're already organizing our sessions for next year. These projects inspire me to think outside of the box on what we can provide for attendees to build.


Re: Raspberry Pi at Design West

Caleb Kraft
7/29/2013 11:31:52 AM
Yeah, I think a class or booth where they can try one out and connect it to a few things might be fun. Many people haven't had a chance to play with one at all yet, they've only seen them in the news.


Innovation Unleashed

Tom Murphy
7/27/2013 4:05:32 PM
This shows more than a lot of cool projects. It shows how innovation sparks more innovation in many different directions, with each of those innovations having the potential to inspire others.

Readers: What other Rasperry Pi innovations have you seen? (Feel free to point to photos with the commenting tool that allows you to point to photo urls.)


Re: Innovation Unleashed

betajet
7/28/2013 11:01:53 PM
There are many interesting RasPi projects described at element14.


Judd is a sad dog today

kfield
7/29/2013 1:59:50 PM
I emailed Judd the dog today, who was featured in Slide 9 of this slideshow - a device his owner built that gives the dog a treat everytime someone emails the dog. This is the text in the email I received from Judd, and photo:

"Terrible News! The USB webcam is not working reliably anymore. I am going to ask my owner to upgrade to the new Raspberry Pi Camera! Woof Woof! Maybe the attached photo will convince him? "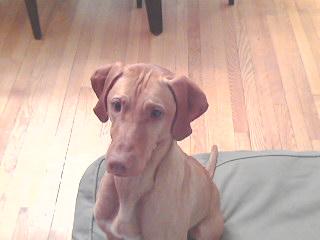 Re: Judd is a sad dog today

Susan Rambo
7/29/2013 2:17:05 PM
@kfield, Awww. Poor dog. Pavlov would be proud. I wonder if we're the subjects of this Pavlovian experiment, though. Speaking of, NobelPrize.org has a Pavlov's dog video game to play while you wait for the Judd's owner to upgrade his webcam.


Re: Judd is a sad dog today

Tom Murphy
7/29/2013 2:20:02 PM
This is cute on its surface. But I love dogs and -- not to sound like an extremist -- I think it is, perhaps, a bit cruel to tie treats to emails. First, if he gets none, the dog would feel punished for no reason. Second, if he gets too many, the dog would grow obese because dogs instinctively eat and eat when food is available.

However, I have a modest proposal to offer as alternative: perhaps the clever inventor would want to tie his own diet to the delivery of emails? No emails, no dinner.

Not to end on a total downnote, I'll share a story about my pup. Our neighbors in the redwood forest include a family of ravens. Ravens and dogs have a relationship going back tens of thousands of years, and dogs can understand ravens when they talk (Ravens have about 30 "words," ranging from "hungry" to "danger" to "dinner time.") I've come to recognize some of the sounds myself, which is helpful for avoiding coyotes or other predators.

In a movie on a DVD last night, a sound effect had ravens making their "Danger!" call, and my dog promptly ran out of the house and began barking to warn others. He settled down only after we convinced him it was only a movie.


Speak at Design West 2014

kfield
7/29/2013 3:17:04 PM
Hi Judd:

i would like to invite you and your owner to present at DESIGN West 2014 in San Jose March 31-April 3. Our attendees would love a talk on using Python to program the Raspberry Pi and the snack feature would be a great demo. K


Ideas for normal people

J70
9/27/2013 8:57:21 PM
respberry pi product

Quickembed
1/5/2014 8:25:50 PM
Datasheets.com Parts Search
185 million searchable parts
(please enter a part number or hit search to begin)