Good news

KB3001
7/29/2013 7:14:26 AM
This is good news for consumers worldwide. More competition means better quality and lower price. I agree with the comment made around tablets following the smartphones trend. The question is: what is the next big thing after tablets? Could Apple do it again, or would someone else come up with a surprise disruptive product this time?


Re: Good news

aff8899
7/29/2013 10:50:24 AM
Heterogeneous multi-processing (HMP)

junko.yoshida
7/29/2013 9:59:54 AM
Who will be next to offer ARM quad-core sotluions with heterogenous multi-processing capability?

Will HMP make such a big difference in your opinion?


Re: Heterogeneous multi-processing (HMP)

junko.yoshida
7/29/2013 11:38:43 AM
So, Ian Drew from ARM tweets, answering my questions (who's next to offer HMP): "a few more are coming along."

Great. I wonder if we can count on Samsung and Qualcomm to fall into that category of soon to offer HMP.

But more importantly, to my question, "How difficult is it to add HMP capability? Beyond getting software and RTL that enables HMP from ARM?" Ian just tweets back criptically: "it's all coming."

As I wrote in the story, "MediaTek's competitors have also access to the same software and RTL that enables HMP from ARM." What makes one's HMP-capable multicore better than others? Any idea?




Re: Heterogeneous multi-processing (HMP)

Peter Clarke
7/29/2013 12:04:51 PM
It seems to me that clustered migration....where a software is moved between a cluster of little cores up to a cluster of big cores and then back under an extension of dynamic voltage and frequency scaling....is simplest and provides what is essentially a uniprocessor programming model.

This means effectively no change for the SoC user but better computation efficiency and the cost of a little silicon.

One you start allowing multiple big-little pairs to exist...or to allow tasks to run on cores as appropriate and as avavilable then the operating system software scheduler becomes vital.

Indeed this could start to become an Android or iOS play rather than an SoC vendor play.

I expect to see Linaro start to be making some Software Schedular developments to enable the more advanced forms of heterogeneous processing.




Re: Heterogeneous multi-processing (HMP)

junko.yoshida
7/29/2013 12:31:55 PM
Peter, that's a really good point. MTK says that it developed its own scheduler for this...but it's true that OS-level involvement would come into play...


Re: Heterogeneous multi-processing (HMP)

Caleb Kraft
7/29/2013 11:38:50 AM
I think we'll probably see this in market leaders at some point. MediaTek may make a few waves with it right now, but it isn't proprietary. If it is good, someone with market leverage will implement it in their leading products. MediaTek did a good job finding something to get a press release out there, but this probably isn't going to have a big impact for them.

The tablet market is flooded with smaller name tablets and people are getting a bit jaded. MediaTek has a lot of work ahead of them if they're going to compete on the shelves of the big box stores. That name recognition goes a long way towards a sale.


Re: Heterogeneous multi-processing (HMP)

junko.yoshida
7/29/2013 11:46:35 AM
Knowing MTK and how it became a well-respected powerhouse in the smartphone chip market, I wouldn't understimate them.


Re: Heterogeneous multi-processing (HMP)

Caleb Kraft
7/29/2013 11:51:17 AM
Yeah, I didn't mean to make it sound like they were a nobody. I kind of think they might be in a similar position to when LG started making waves in the states. They were already big overseas, but people here just hadn't heard of them. Now they're everywhere.

I still don't think this(heterogeneus processing) will be the defining fact for their growth in the tablet market. If anythign it will be solid physical construction and battery life.


Re: Heterogeneous multi-processing (HMP)

rick merritt
7/29/2013 12:41:26 PM
There's enormous pressure to lower costs of tablets. That pressure passes on to the the SoC vendor that has to do a lot of the heavy tech lifting for the complex silicon engines that drive these systems.

As a cost efficiency leader in the smartphone space, MTK has a great opportunity here. Taiwan in general has a long tested ability to cost reduce chip and system designs--look out Qualcomm, someone is coming after your profit margins!


Re: Heterogeneous multi-processing (HMP)

Tom Murphy
7/29/2013 1:27:03 PM
Agreed Rick. Probably the biggest thing holding back broader adoption of tablets is cost. As the market grows, prices will come down. Whether the cost-effectiveness leaders comes from Taiwan or mainland China is TBD. Either way, the competition will drive that cost down.

Speaking in percentages, how much do you think tablet prices will fall in the next three years? 10%, 30%, 50%, or More? Will we see a quality tablet in the $100 range from a major player within that time?


Re: Heterogeneous multi-processing (HMP)

junko.yoshida
7/29/2013 1:53:18 PM
Tom, the table prices have already fallen to less than $100 in China.

What's meaningful in the global market context is how much better or higher quality that $100 tablet will become -- and how quickly.

As MTK's executive noted during the interview, I think there remains a huge void in today's global tablet market in the middleground -- tablets that can sit in the middle between iPad and $99 tablet. That's the sweet spot, and MTK is determined to steal that segment.


Re: Heterogeneous multi-processing (HMP)

Tom Murphy
7/29/2013 3:17:59 PM
Junko: Good point. Even Sears had a Droid tablet on sale last fall for $78. But what I'm talking about is a tablet that rivals a current model of the Nexus or iPad or Surface -- and costs about $100. I don't think that is avaiable anywhere yet...am I wrong?

Right now, a Surface, for example, starts at $299, but I think the demand for such a gizmo would triple overnight if the price fell by two-thirds.


Re: Heterogeneous multi-processing (HMP)

mcgrathdylan
7/29/2013 7:04:56 PM
I can't speak to the relative user experience of using any of those tablets. But I can say that I got a Samsung Galaxy Tab about a year ago for $200 and I'm pretty satisified with it. Not sure when we will get a $100 tablet of comparative quality in the U.S. But I agree with you, Tom, the demand would skyrocket if they fell that low.


Re: Heterogeneous multi-processing (HMP)

Caleb Kraft
7/29/2013 7:24:48 PM
Just out of curiosity, do you use your phone for social media and news? I can't help but think that if I didn't have the iphone, I'd LIVE on a tablet.


Re: Heterogeneous multi-processing (HMP)

Tom Murphy
7/29/2013 7:26:02 PM
Thanks Dylan. $200 sounds like a steal -- what was that? A doorbuster on Christmas Eve at Walmart or something? Hey, writer to writer, I know you're not about to give up a PC. Do you use the tablet enough that you'd tell me to go get one? Or is it just a "nice to have" that you use once in a while as you get bored watching TV?


Re: Heterogeneous multi-processing (HMP)

mcgrathdylan
7/29/2013 7:55:59 PM
No, I bought it at Costco. And I'm pretty sure it was $199, but now that I think about it I can't swear to that. But it was in that vicinity. And I think it was on sale or something too.

And to your second question, writer to writer, no I don't use it enough to consider it a must have. I do like it, and my kids love it. But until the other day, when both my oldest son and I suddenly felt like using it kind of at the same time, it had gone untouched for months. As you say, it's a cool thing to have handy when you are bored (which for me is seldom) and want to google something or check something out. For the kids, it's a fun platform for games, although honestly I am not sure why since they also have both Wii and Xbox.


@Dylan: And to your second question, writer to writer, ...

Oooh, is this like a secret society? Do we have special handshakes? (If so, why didn't anyone tell me about this before? :-)


Re: Heterogeneous multi-processing (HMP)

mcgrathdylan
7/29/2013 7:16:51 PM
If I'm not mistaken, MediaTek has been coming after Qualcomm's profit margins for a long time. But still, Qualcomm continues to grow sales quarter after quarter. And I believe it's margins are quite healthy.


ARM outlined these two approaches (clustered and MP) at ARM Tech Con last year:

See http://www.eetimes.com/document.asp?doc_id=1262724

They made it clear the clustered approach was going to be the first out the chute and the MP approach would take a little more time in testing. Thus the Samsung Octa had a time to market advantage but the MP tech wasn't ready yet.

Going forward I would expect most SoCs will take advataage of the MP approach as long as it shows efficiency benefits. Hey, its a nice give away from ARM.


Thanks for the link, Rick. At a time when so many apps processor guys are competing among themselves -- on the basis of "I have more cores than yours," heterogeneous multiple processing brings a new wrinkle, offering potentials for a "game changer."

I think the market is waiting to see the proof of genuine efficiency benefts coming out of this.


Junko, how much more efficient the new architecture will be, if i can save >10% battery life then only consumer will notice the difference. Also, more cores does not mean that the device is faster, other factors such as RAM, software, graphics card etc make difference for a complete device. Hopefully consumers get their facts straight before shelling out money.


HMP = Heterogeneous Multi-Processing ? Then what acronym for the other kind, Homogeneous Multi-Processing? It looks like MediaTek is becoming MarketingTek by hijacking an existing term but twisting it badly. Heterogeneous Multi-Processing has been going on for a long time, with a nice mix of GPP (general-purpose processors), like ARM, PPC or x86, being helped with other programmable processors / co-processors doing graphics (GPU), vector processing, SIMD, network processing, DSP, etc.

Multiple identical cores came along with dual-core, quad-core, and so on, sometimes also helped with accelerators. These are Homogeneous. They can run at different speeds. Then there are Many-Cores which are like ants or termites attacking a problem.

ARM highlighted the big.LITTLE where (largely) the same instruction set might run in two different "size" processors, but not running radically different operations like floating point or 3-D shading. The fundamentals are still the same and each core can run completely on its own. I don't know if this crosses the line from homo- to hetero-geneous.

Maybe MediaTek seems to be clustering a few of these. It doesn't feel like a new class of processors. And loosely tossing around "HMP" is just flak. Heaven help the guy trying to write the code for this complexity.


Re: HMP? Why twist that term?

Tom Murphy
7/29/2013 7:23:44 PM
Good catch, MicroMan! Frankly, my eyes glaze over at every acronym we come across. Humans aren't meant to communicate with alphabet soup. It leads to confusion in a context where clarity is appreciated.

Are initialisms inevitable? Or can we incorporate human language into our daily work to avoid confusing points like this one?


@Tom: Are initialisms inevitable?

Based on past experiance I woudl say "Yes". My first job out of college was as a member of a team designing CPUs for mainframe computers at International Computers Limited (ICL) in the UK. The first coupel of days were really hard because everyone was talking in abbreviations.

The thing is that so long as you have the correct domain knowledge, abbreviations make conversations much more concise. Can you imagine saying something like "SoCs are ASICs or ASSPs augmented with CPU cores" in "long-speak"? Your audience would be asleep before you had finished. On the other hand, for someone who was not "in the trade," this sentence would sound like gibberish.


China's tablets

sranje
7/30/2013 10:43:10 AM
As usual, the US-centric Forward Concepts completely missed China's "white-box" tablets and their processors -- Allwiner, Actions, Rockchip, etc.

China tablets will soon account for nearly 50% of global tablets


Heterogeneous Multi-Processing vs Asynchronous

Wobbly
7/30/2013 1:12:44 PM
They are upselling HMP against Samsung's big.LITTLE, but they don't discuss Qualcomm's fully asynchronous Krait Quad-core, where every core can independently exercise DVFS.

How willl those implementations compare? Instruction per milliwatt?

My guess is that fully Asynchronous Quad Krait will have a distinct speed advantage under heavy load. MediaTek may (and it remains to be seen) have a small advantage at idle. The minimal configuration is two A7 at low V/F, vs. one Krait at low V/F. The interesting part will be in the middle ground. A 'moderate' load.

For the very lowest load, for example, audio player only mode, Qualcomm may win, because the Krait can be halted completely, and the low power audio subsystem operates on one of their Hexagon DSPs.

Also note from earlier in the thread, you can buy the updated Nexus 7 for $239 with a Snapdragon Pro and a full 1080 HD display. You do not have to 'white box' any more. I have the last generation, which was a very nice tablet. On of my co-workers as the 2013 model. It is very very nice.


Creeeping up on Samsung? No, catch AllWinner first

uPlay Tablet
7/30/2013 6:15:58 PM
MediaTek needs to catch AllWinner and RockChip first before thinking about creeping up on Samsung. AllWinner and RockChip dominate the Chinese tablet market. Now they are also coming up reference designs with integrated 3G data and phone function.

AllWinner has already released two version of it's latest quad-core A7 based application processor: AllWinner A31 and A31s, and flooded the market.


Re: Creeeping up on Samsung? No, catch AllWinner first

junko.yoshida
8/2/2013 8:09:56 AM
@uPlay Tablet, I have a follow-up question.

Where are AllWinner and Rockchip getting 3G modem chips? The last time I checked, they don't have their own. So, whose 3G chips are they using in their reference designs?


Re: Creeeping up on Samsung? No, catch AllWinner first

uPlay Tablet
8/5/2013 5:55:46 PM
Re: Creeeping up on Samsung? No, catch AllWinner first

junko.yoshida
8/5/2013 6:49:48 PM
Thanks for your quick response. Very interesting. i did not know of Hong Tai Feng Electronics. I am glad I found that out. I wonder if Hong Tai Feng also offers TD-SCDMA? How about LTE?


Re: Creeeping up on Samsung? No, catch AllWinner first

uPlay Tablet
8/5/2013 7:49:03 PM
I don't think they offer EVDO solution, neither 4G LTE at this point.


Re: Creeeping up on Samsung? No, catch AllWinner first

junko.yoshida
8/6/2013 2:03:28 PM
Thanks. That would make this race even more interesting. As technology constantly changes, how an apps processor company can keep up with it in a timely manner becomes the key.


SOC For Tablets

nkprasad
7/31/2013 12:31:44 AM
Allwinner and Rock Chip have excellent chipsets and now it is no longer the dominance of US/European Chipsets in this Market.

Good to see competition coming from Asia taking it to newer heights

Krishna Prasad

Designer- Tablets


I've used one HTC tablet which uses rock chip processors. I would the perfromance is terrible and decided I will never buy a product other than apple or google. But I believe Mediatek will defintely have a much better product.


Re: SOC For Tablets

nkprasad
7/31/2013 7:20:39 AM
Performance surely is a factor- i am not sure how the Application is bundled and what i am saying for a Given Price (compare these products) with Apple which is 3x costlier.

Bottom line is cost vs quality vs performance. 9.7" Tablets from ROCK Chip also have excellent features and plays HD-Games well

I can send you the model/make if u send me your email id to have a look



K.PRASAD




Understood, uPlay Tablet.I am one of the many people truly amazed by the progress these two Chinese fabless guys have made over the last few years.

Here's another question for you, though. Which "branded" OEMs are selling their tablets by integrating AP either from Rockchip or Allwinner? Do they sell them outside China?





In conjunction with unveiling of EE Times' Silicon 60 list, journalist & Silicon 60 researcher Peter Clarke hosts a conversation on startups in the electronics industry. One of Silicon Valley's great contributions to the world has been the demonstration of how the application of entrepreneurship and venture capital to electronics and semiconductor hardware can create wealth with developments in semiconductors, displays, design automation, MEMS and across the breadth of hardware developments. But in recent years concerns have been raised that traditional venture capital has turned its back on hardware-related startups in favor of software and Internet applications and services. Panelists from incubators join Peter Clarke in debate.



August 2015 Cartoon Caption Contest: "Beware of Geeks Bearing Gifts"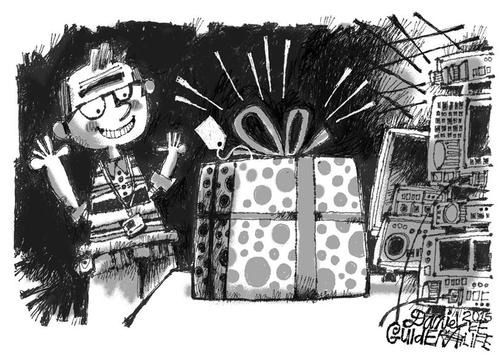 "Your caption here!"

113 comments
Datasheets.com Parts Search
185 million searchable parts
(please enter a part number or hit search to begin)