I think we are all getting ahead of ourselves by using the term "Automous Cars" casually. When reading some of the market research analysts' reports, I was confused; then, only by talking to them, i realized that there are so many shades of autonomy in autonomous cars!


Re: Define Autonomy

krisi
8/23/2013 1:20:03 PM
Agree Junko, we need a definition of autonomous to start any discussion on this topic...I think the pragmatic, shorter term definition would be a car that can drive without driver involvolvement on highway (maybe autonomous highway needs to be defined too)...any other ideas? Kris


Hi, Kris. As you can see in the page 2 of this article, the US Department of Transportation's National Highway Traffic Safety Administration has laid out a pretty comprehensive set of five levels of autonomy for autonomous cars. And I think this is very useful.

What you described might belong to the Level 2, according to NHTSA's categorization -- or somewhere in between level 2 and level 3.

The issue is that where the sweet spot is going to be -- in terms of the market demand. Level 2 or level 3?

With the growing number of aging population, though, Level 3 (or Level 4) might be what might be really needed.




Re: Define Autonomy

krisi
8/23/2013 2:05:30 PM
Let's walk before we run, getting something in place will be hard as these autonamous cars have to co-exist with "normal" ones for a while...I wonder at which point "normal" cars will be phased out, as analog TV today...nice article by the way Junko!


Thanks, Kris. You wrote:


I wonder at which point "normal" cars will be phased out, as analog TV today.


Interesting you say that, Kris, because that's exactly what I was wondering when I was talking to one of the market analysts earlier today. When things like V2V (vehicle to vehicle) communication becomes a mandatory feature (more stories on this topic later) in new cars, obviously, the automotive industry will start looking for some sort of incentives for a small add-on device for "normal" cars, just like the TV industry was looking for the government's help for D-to-A down coverters.

How this will all play out is still too early to tell. But things are definitely getting interesting!


Re: Define Autonomy

Bert22306
8/23/2013 5:45:19 PM
I think that in fact, even Level 0 cars have a lot of autonomy built in. Most people today may not even be aware of it, unless they try to drive a Model T Ford perhaps.

Seems to me that fully autonomous cars are certainly possible, but first you have to create an infrastructure that is more predictable. But why is this hard? I've been on fully autonomous trains many times. No operator at all. The only reason they're feasible today is that the tracks make their path predictable. For that matter, same goes for airliners. They fly themselves most of the time, even for landing, and no "tracks" in sight. So why should we dismiss the possibility of making the car's relationship with roads more deterministic? You make it so cars run on predictable paths, when they operate in autonomous mode.

Just like with airliners, where navigation devices create the "tracks" they run on, you create these predicatble paths with vehicle to infrastructure comms. And you have emergency lanes where cars can stop in case of mechanical failures.

All I'm saying is, if we view this as an evolution of systems that already exist today (and they do exist today), then the rapid growth curve becomes believable.

As to what cars companies will boast about, it will be the creature comforts. Hey, things change. Engineers should know that better than anyone else. People used to boast about their horses, for pete's sake.


Bert, you wrote:



Just like with airliners, where navigation devices create the "tracks" they run on, you create these predicatble paths with vehicle to infrastructure comms. And you have emergency lanes where cars can stop in case of mechanical failures.


I think you are absolutely rigt about that. What makes that sceanrio a bit more complicated, in my humble opinion, is that there are already 250 million cars on the road that are not capable of following the "tracks" they are supposed to run on.


Re: Define Autonomy

Bert22306
8/23/2013 6:05:04 PM
True. So that's why fully autonomous driving will be deployed over time, only on certain roads and for certain vehicles initially. For example, we have High Occupancy Vehicle (HOV) lanes already today, on many suburban freeways. Those would become the first roads for these fully autonomous cars.

Think about how the freeway system began as recently as the 1050s, and how prevalent they have become today. And homo sapiens has roamed the planet for at least 40,000 years. What's a couple of decades?


What's a couple of decades?

Hi, Bert, wow, i love your "long-term" view!


Kris, Junko - re: "I wonder at which point "normal" cars will be phased out, as analog TV today."

There's a pretty easy answer to this question. Look at classic cars on the road today with none of the modern required safety features. Cars from the 1960's and earlier are simply death-traps by today's standards, but they stay around in limited numbers, driven by car enthusiasts.

Manually driven cars will be grandfathered in, as are old, unsafe cars today. Their numbers will dwindle over time until there just aren't enough on the road to be a significant factor.


Re: Define Autonomy

Andrzej11
8/26/2013 3:28:22 PM
I think once Level 4 cars come to market at a mass market price then the phasing out of human driven vehicles on public roads will be extremely quick. How could it be otherwise? At present the monthly casualty count on US roads alone is equivalent to the 9/11 attack. Add to that the economic benefits of greatly increased roads capacities and an end to congestion, one can only conclude that the days of human driven vehicles are quite limited.


Re: Define Autonomy

krisi
8/26/2013 3:58:03 PM
Actually on the number of fatal casulties is much higher than 9/11, about 40,000 annually


Re: Define Autonomy

Andrzej11
8/26/2013 4:41:13 PM
Hi Kris,

I said monthly.

Furthermore, I rechecked my numbers. For 2011, NHTSA reported 21,253 deaths and 1.97 million injuries while the Wiki cites 32,367 deaths for the same year. The difference is that the Wiki includes pedestrian deaths. The Wiki number translates to about 2700 deaths per month while there were about 3000 9/11 deaths. So I overstated it a bit in my initial observation but I think the 164,000 monthly injuries makes up for it.

Conclusion that the days of human driven vehicles are very limited remains unchanged.

Andrzej


Re: Define Autonomy

krisi
8/26/2013 4:45:40 PM
thank you Andrzej, didn't see monthly...your analysis makese perfect sense


Wow! It feels really good to hear about the prediction of increase in demand of Autonomus Cars. As per the Senior Research Analyst, David Alexander the demand of Autonomous cars can increase from 0.01 % to 75 % during the time period of 15 years that is from 2020 to 2035. But, I have a doubt that how the user of the vehicle will take such Autonomous cars. So, there is a time when the cars will come and we have to stop this topic and will again start about the same when they come. But, we have to take care of what we have. Most of the people do not do any maintenance as well as servicing of the vehicle and results car does not work, car stopped at middle of the road, car crash and car accidenmts. So, we have to take care of our vehicle and it is our responsibility.

Audi Repair Forest Park, IL


Re: Define Autonomy

Andrzej11
4/30/2014 3:02:41 PM
As mechanical failure would become the leading cause of motor vehicle accidents with the advent of autonomous vehicles, there would be significant pressure applied to motor vehicle companies to improve car reliability.

Furthermore, the congestion costs resulting from any given road collision would be much greater given that road capacities, and subsequent utilization rates, are expected to increase significantly with the advent of autonomous cars further incentivizing society as a whole to make cars more reliable to avoid accidents.

Hand-in-hand with this, preventative maintenance would become mandatory. Performing zero maintenance and driving your car until it fails on the road would no longer be an option. I see car manufacturers borrowing a page from the aircraft manufacturers and rating critical components for a certain number of hours after which replacement would be mandatory. Your vehicle would simply shutdown if you tried to drive it beyond some critical components rated lifespan.



Andrzej


I think we can not say that we can see these numbers of vehicle in our recent future because the automotive market is increasing day by day and various new model vehicles are in front of us as an example of it. So, this is really going to be a tough task to make a guess. As we all heard of Google's Self driving car. It is a great thing that we can reduce road blocks, accident and crash because of these self driving cars but, before launching the same our car makers have to go through a complete testing process so that they can visualize the experience of each and every part. As self driving cars are completely based on technology and the user have no control on its driving so, it can be a threat but, if proper care taken of then it will be helpful for us. Whether we have a self driving autonomous vehicle or a normal vehicle if proper care not taken then we have to face various car related issues like car crash, car accident, engine problem and many more. So as per my suggestion we people have to search for a best repair center near to us respective of the car that we have.

BMW Repair Chicago


How many Automonous Cars in 2030? NONE

Loser99
8/23/2013 3:40:24 PM
How well do they perform in heavy rain? How about snow, How about when the roads are snow and ice covered and there are no landmarks?

Who is responsible when they kill their first person?

The manufacturer will constantly get sued of course.

So, no automonous vehicles in any significant quantity on the roads.






Re: How many Automonous Cars in 2030? NONE

junko.yoshida
8/23/2013 3:47:59 PM
Loser99, these are all great questions -- and there are a lot of assumptions on the part of the automotive industry and the analyst community.

It's going to be a long road ahead, for sure.


Re: How many Automonous Cars in 2030? NONE

Frank Eory
8/23/2013 6:25:11 PM
The authors make an incredibly bold prediction -- that 75% of new cars worldwide will be Level 4 fully autonomous by 2035. There are a lot of roadway infrastructure investments needed as well as big innovations and cost reductions needed on the vehicle side, since by definition, if 75% of the world's new cars will be fully autonomous by that date, then they must also be very affordable by then too in order to reach that market share.

2035 is only 22 years away and it seems to me that we are already way behind schedule if this prediction is to come true.


Re: How many Automonous Cars in 2030? NONE

junko.yoshida
8/23/2013 6:28:01 PM
@Frank, that was exactly the initial reason why I decided that I need to look this into further. More stories on this topic -- breaking down the infrastructure development and actual deployment of actual autonomous cars -- will be coming soon....


Re: How many Automonous Cars in 2030? NONE

Bert22306
8/23/2013 6:32:48 PM
I think it's possible, as long as we don't extend that prediction to mean that these fully autonomous vehicles will be driving on fully autonomous mode all of the time. The roads will take time to be updated.

BTW, I mean 1950s, for freeways, not 1050s. (Of course, Roman roads many decades BC were superfreewys of sorts too.)


But I like cars

pinhead1
8/23/2013 3:59:54 PM
As a car guy, I admit that it is kind of depressing to think about fully autonomous cars. In spite of that, I will admit that as a Southern Californian, the thought of being able to sleep through my morning commute does have some appeal. As an engineer, I have to believe the data that shows the "Level 1" autonomous cars that we already have (IE, stability control) is demonstrably saving lives - so I guess automation may be a good thing, in that I'll be able to sleep safely to work.


@pinhead1, I think this is exactly one of the issues that carmakers are trying to wrestle with. On one hand, they want o add all the advanced driving assistance system to their cars (adding more value),helping to pave a way to "autonomous" cars. And yet, how BMW, the owner of "Ultimate driving machine" brand, would be able to differentiate their autonomous cars from others?

The debate on this -- how consumers will embrace it and how carmakers will pitch it -- has only begun.


Re: But I like cars

p_g
8/25/2013 6:22:10 AM
Wouldn't it be nice that when light turns gree all the cars in row start immediately instead of sping action where last car start way late then first car due to human response time. Also no honk to guys who sleeps or busy in texting while light turn green and you miss signal due to him... just that the article lead to wild imagination of world with fully automated cars :) Also cop cannot ticket car if found speeding (hope they dont issue SSn for cars :) )



In my opinion beside leagal infra structure, car security would be another big concern here. To kidnap someone, just launch visrus in cars software and done (I dont remember action movie name but something like this was shown). People are even concerned about having wifi/data sharing/location information uploading e.t.c. which are more or less needed for automation.


p-g, a kdinapping scenario is a good one....I would have never thought about that. Would make a great movie!


The mix of autonomous & manual cars on road will be a challenge

prabhakar_deosthali
8/25/2013 3:00:06 AM
When the autonomous cars start running on the roads, it is not these cars that will create a safety hazard on the road but it is the mix of such cars along with the manually driven cars that will create some odd situations which the autonomous cars will not have been programmed for. Because the humans sometimes drive in totally unpredictable ways ( depending upon their mood, their mental stress level , their co-passengers and the alcohol level in their blood)


Not seeing the point

kfield
8/25/2013 5:28:59 PM
Am I the only one not seeing the point of autonomous vehicles? It seems that we should be building better infrastructures for public transportation and cycling to work, than figuring out better ways to keep us all in our cars.


Re: Not seeing the point

Bert22306
8/25/2013 5:48:38 PM
The point is, more efficient and safe use of infratructure for personalized, private transportation. Which translates to fewer roads having to be built.

As much as people ballyhoo the wonders of public transportation, few people use it overall, and it's not often convenient either. Unless you live in downtown neighborhoods, public transportation doesn't take you to your door. It doesn't run always. It's mostly useful for commuting to work on normal daytime schedules. So truly autonomous cars would be like public transportation that takes you to your doorstep, is always there exactly when you need it, and uses roads much more efficiently than the vague, haphazrad, and random behavior of human drivers can ever do.

Cycling to work? So, you arrive at work and you take a shower? Or you go to a meeting and you take a shower? I had an office mate who rode his bike to work every day, and of course, no shower in the office. It's simply not practical.


Karen, think of our parents' generations. How hard it is to take car keys away from them, when they are really no longer fit for driving. I hope to live long enough to be chauffeured around by these self-driving cars!


Re: Not seeing the point

kfield
5/19/2014 3:10:32 PM
Excellent point Junko, as a relative over 85 I shall not name has recently taken to "sneaking the car out after dark, hoping that his adult children don't notice.


I think we'll all be quite surprised at how fast this happens. My prediction is that Auto manufacturers will be offering their first cars with Level-4 self-driving capability in less than a decade. Adoption won't be that fast until people start to realize that the accident rate on self-driving cars is a fraction of what it is with conventional cars.

Yes, manufacturers will be afraid of the liability and they'll get sued. But - they will calculate the expected costs of self-driving related accident suits vs. the cost of the current liability structure and will want to push the self-drivers. NHTSA will get involved and want to see self driving as a safety feature too.

I'm expecting to see some car modder offering a self-driving kit any day now. If it's not this year, it won't be long from now and it will be before the manufacturers get in on the action.


Truly autonomous cars not realistic

Tiger Joe
8/26/2013 1:56:54 PM
The best I see autonomous cars getting in the time span of 15-30 years is perhaps on divided highway situations. Once you enter the on-ramp, you could flip a switch to autonomous mode which would allow you do do all your distratcted driving tasks until you reached your exist. Then the car would be in manual mode.


At any time during the autonomous mode, it could be overridden. I like to think of it as a smart cruise control.

I heard on the radio that truck drivers may have to worry about employment as their job is taken over by a robot. I find this no more realistic than pilots being out of a job for the same reason. Someone would have to be behind the wheel at all times even if the truck is running autonomously.

Already we are submitting tasks like trading stocks and transmission of electricity to computers, giving us incidents we cannot fully explain. It will take some while before we put our faith in similar systems for activities that are safety critical intensive.


Re: Truly autonomous cars not realistic

junko.yoshida
8/26/2013 5:54:13 PM
@Tiger Joe, you wrote:

The best I see autonomous cars getting in the time span of 15-30 years is perhaps on divided highway situations.


So, how would that be different from autonomous cruise control system? Are these two things are the same?

Re: Truly autonomous cars not realistic

Tiger Joe
8/27/2013 8:52:28 AM
The divided highway could be seen at the test case for autonomous cruise control. They key difference between regular cruise control and that is the steering wheel input, along with needed use of the brakes, without causing the system to shut off (or revert to manual mode) in the case of regular cruise control. But maybe that would be a good design feature.


I think cars need a lot of time using the divided highway as a test bed and then making that aspect of driving commercial available before we even think to solve the problem of driving in city traffic. Next, could come deserted country roads, maybe between checkpoints allowing someone to turn on such a system, and then it would turn off as soon as you approach a town, forcing you to manually drive through that.

In other words, I see a hybrid system for many years, before a fully autonomous vehicle is even possible.


Re: Truly autonomous cars not realistic

junko.yoshida
8/27/2013 10:18:02 AM
Thank you, Tiger Joe. You wrote:

I see a hybrid system for many years, before a fully autonomous vehicle is even possible.


I think that makes a lot of sense. As for testing autonomous cars on highways and streets, i hear that states need to change legislation first.


Autonomous Car Tipping Point

DrQuine
8/26/2013 6:05:12 PM
The tipping point for autonomous cars will occur when automobile insurance offers a discount for travel in an autonomous car. If statistical analysis demonstrates the autonomous car is safer in all conditions than a car with a human driver, the technology has succeeded. I predict there may be some intermediate steps where the autonomous car is rated better than the worst drivers but not as good as the best drivers. This may result in some interesting insurance policies.


Re: Autonomous Car Tipping Point

junko.yoshida
8/26/2013 6:14:25 PM
@DrQuine, that's definitely an interesting notion. Insurance companies do have a big sway in this -- one way or another.

Two years ago, Bob Joop Goos, chairman of the International Organisation for Road Accident Prevention, was quoted by saying:

"More than 90 percent of road accidents are caused by human error. We, therefore, have to focus on people in our traffic safety programmes."

If that still holds true, getting human drivers out of the equation by asking them to rely on semi-autonomous, or full-autonomous cars, does make sense, and insurance companies shold like it, provided that autonomous cars work well withouth causing accidents.


Re: Autonomous Car Tipping Point

DrQuine
8/26/2013 9:33:01 PM
I think the challenge is that while humans makemany kinds of mistakes, all the alternatives are even worse. Reading obscure warning signs or recognizing the significance of something out of the ordinary is a challenge for automated systems. Rolling a monorail train down a dedicated right-of-way is very different from navigating down a crowded road and recognizing that the cyclist on your right is about to take a spill.


We have the technology to create fully autonomous cars and release them on the market but I bet only a few people will buy such cars, the price is going to be too expensive. I will continue driving my

Chuck Stevens of Bay Minette

vehicle and will buy an autonomous car when it will have an affordable price.





Autonomous vehicles on our roads soon? What could go wrong with that? Listen in as EE Times' Junko Yoshida asks industry experts what the intended and unintended consequences will be.

October 2015 Cartoon Caption Contest: In a different vein...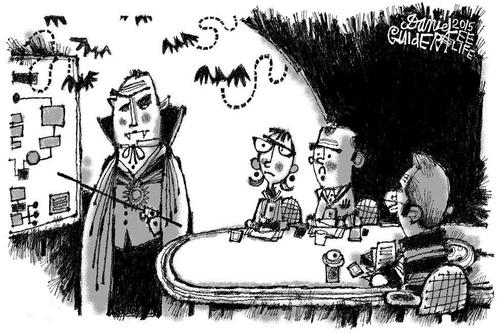 "Your caption here!"

31 comments
Datasheets.com Parts Search
185 million searchable parts
(please enter a part number or hit search to begin)