The dawn of the post DRAM era is not too far away and it could shake things up methinks...but how, who, when?


Re: Good insight

resistion
9/30/2013 2:12:59 PM
STT-MRAM is seen to fit the bill as DRAM replacement, if the cell transistor's resistance itself doesn't overshadow that of the STT-MRAM.


@Resiston, re STT-MRAM: Any thoughts on when it could be ready and what its impact could be?


Re: Good insight

resistion
10/1/2013 8:02:54 PM
Although its write endurance is sufficient, it needs to demonstrate reliable read endurance as a SRAM or DRAM replacement. This will be hard to do for a fast read current, since read disturb is becoming more likely.

Another difficulty is the resistance-area product which is quite low at ~10 ohm-um2. In that case, the transistor must always be bigger than the MTJ, which is hard to sell. But for advanced nodes, even the interconnect resistance will be of the same order of magnitude.

So I think its burden for entry is quite high and getting higher.


3D ReRAM premature

resistion
9/30/2013 1:09:26 PM
As noted in the abstracts the on/off ratios of the devices in the 3D-RRAMs are still on the order of 100-1000 at best. That is hardly worth bragging. Also, some 3D-RRAM current densities (e.g., IMEC) are too high.


Of course there's an energy barrier for the HP device

shockley22
6/22/2014 9:55:59 AM
Did you forget the paper where they disclosed a change of phase was occurring under the high current used for the write operation? Temps of ~400C?

The device was totally modeled to physical laws and the memristor concept.

Hack attack!


Re: Of course there's an energy barrier for the HP device

A Sceptic
6/22/2014 11:39:16 AM
A friendly reminder how HP's memristor ("The missing memristor found", NATURE) has been defined (according to "HP Memristor FAQ", http://www.hpl.hp.com/news/2008/apr-jun/memristor_faq.html):

"Memristance is a property of an electronic component. If charge flows in one direction through a circuit, the resistance of that component of the circuit will increase, and if charge flows in the opposite direction in the circuit, the resistance will decrease. If the flow of charge is stopped by turning off the applied voltage, the component will 'remember' the last resistance that it had, and when the flow of charge starts again the resistance of the circuit will be what it was when it was last active."



The weak point of the memristor concept is the dynamic state equation, i.e., the time response of the system to an externally applied electrical stress. Nonvolatile information storage by means of a material system requires the existence of energy barriers that separate distinct system's states from each other. At finite temperatures there exist, however, unavoidable fluctuations in all physical systems. If these energy barriers are not high enough, such fluctuations might be able to expel the system from its present state to another one.

A dynamic state equation of a system has to take into account stochastic terms related to such fluctuations (some type of a generalized Langevin-equation). This, however, was overlooked when the memristor concept was put forward; otherwise, it would immediately have become clear that the concept of purely current- or voltage-controlled memristors describes – from a thermodynamic point of view – nothing else but something like a frictionless "neutral equilibrium" system. Such a memristor system would always erratically "move" through its resistance state space – just under the influence of noise –, reminding somehow of a drunken sailor's random walk.


Re: Of course there's an energy barrier for the HP device

shockley22
6/22/2014 11:58:31 AM
"Moreover, the nonvolatile "memristor" concept raises some severe questions when viewed from the perspective of non-equilibrium thermodynamics /4, 5/. Nonvolatile information storage requires the existence of energy barriers that separate distinct memory states from each other. "Memristors" whose resistance (memory) states depend only on the current (like the HP memristor) or voltage history would thus be unable to protect their memory states against unavoidable fluctuations and therefore permanently suffer information loss: the proposed hypothetical concept provides no physical mechanism enabling such systems to retain memory states after the applied current or voltage stress is removed. Such elements can therefore not exist, as they would always be susceptible to a so-called "stochastic catastrophe" /5/. It is therefore pointless to tinker with this concept in order to describe physical phenomena like "resistance switching" effects."

The problem with memristor deniers is that they come from a math-physics-theory background and neglect to understand the practical details of memory operation. HP's TiOx RRAM uses high current density which causes a phase change. This change of phase represents an energy barrier. Transient fluctuations in voltage are infinitessimal compared to what is required to change phase which is in turn required to change logic state. It's the same energy barrier used in PRAM. By your account, there could not possibly be working prototypes, but there are. They even made a next-generation memristive AI machine. See the video:

https://www.youtube.com/watch?v=o9u9o_ToQwM


Re: Of course there's an energy barrier for the HP device

A Sceptic
6/23/2014 11:11:32 AM
Don't mix up ReRAMs and memristors:

ReRAM elements are based on "resistance switching" effects which have been known for a long time. Usually, some electroforming step is required to activate "resistance switching" phenomena in oxide materials like TiO2 or Ta2O5. Electroforming is generally achieved by applying high electric fields which can lead to soft breakdown of the insulating oxide layers. Such fields can induce the formation of localized (filamentary), defect-rich and structurally/chemically altered regions that have much higher electrical conductivity than the surrounding insulating matrix. It can be assumed that resistance switching effects in metal oxides result from "reversible" physical/chemical phase transformations occurring somewhere along these defective, conducting filamentary paths. Such transformations can be brought forth by, for example, local Joule heating in combination with significant redistributions of mobile ionic species under electric field action.

The memristor was hypothetically envisioned as the fourth passive two-terminal electrical component. Memristor is a contraction of "memory resistor," because that is exactly how it would function: to remember its history. A memristor would be a two-terminal device whose resistance wouldn't be constant but would depend on the history of current that had previously flowed through the device, i.e., its present resistance would depend on how much electric charge has flowed in what direction through it in the past. When you turn off the voltage, the memristor would remember its most recent resistance until the next time you turn it on, whether that happens a day later or a year later. There is, however, on simple problem with this fourth passive two-terminal electrical component called "memristor":

It cannot exist in physical reality

!


Re: Of course there's an energy barrier for the HP device

shockley22
6/23/2014 12:10:28 PM
I think I see what you're saying now. If a huge pulse of current is required to create the energy barrier (the phase change), then how can you use variable current to achieve a variety of different resistances -- memories?

I'll have to go back and check on that, because I acutally don't remember asking myself that question.

BTW, this IS possible in PRAM, but I don't remember any discussion like this with regard to ReRAM. But that doesn't mean it didn't happen! LOL

Regards,

Shockley


Re: Of course there's an energy barrier for the HP device

shockley22
6/26/2014 7:51:46 AM
Wanted to correct an earlier statement I made. The memristor symposium video part 2 with what I called a "memristive AI demonstration" is acutally a simulation. It's not done with actual memristors, but with, presumably, software modules simulating memristive behavior. There was a little bit of language in the presentation I didn't catch. This is further reflected in this little blurb on the HP website:

"The research, by Greg Snider and Stan Williams of HP Labs, is a featured paper in the Jan. 24 issue of Nanotechnology, a publication of the British Institute of Physics ("Nano/CMOS Architectures Using Field-Programmable Nanowire Interconnect," www.iop.org/journals/nano). The research was conducted using classic modeling and simulation techniques, but Williams said HP is working on producing an actual chip using the approach, and could have a laboratory prototype completed within the year."

http://www.hpinnovator.com/index.php?articleID=9712&sectionID=80

Also, I said the memristor part of the circuit simulates neuronal behavior, but it is synapses they substitute for -- not neurons. Neurons would have to be simulated with CMOS and, presumbably, software.

And finally, I haven't yet discovered what is memristive about the resistive devices in their synaptic role. I also have to go back to Williams' theoretical memristance discussions to see whether they are consistent with having memristor behavior in a write scheme that involves partial phase change.

Shockley





Datasheets.com Parts Search
185 million searchable parts
(please enter a part number or hit search to begin)
June 2016 Cartoon Caption Contest " Virtual Un-Reality"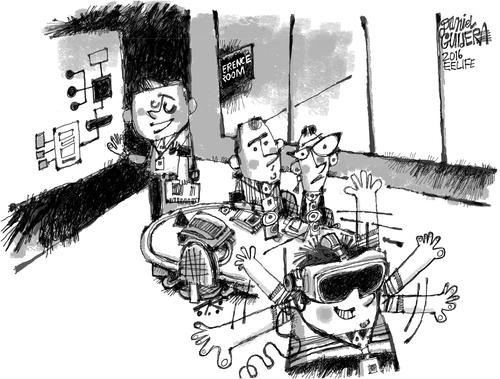 "Your caption here!"

138 comments