It's a thing of beauty Caleb though I know there are those who will disagree.

With a bandwidth of 400 Kilocycles / sec (they hadn't even started using Hertz then!) max 2.5 MC/s there's not a lot you could use it for now. If it works you could make a clock of it - didn't you post an article on this recently? Or have it on the corner of your bench displaying Lissajous figures.....

From the looks of it there is no reason it should not work, though you may get the standard problems with dry electrolytics, but they are easily replaced.

Where do you get all these lovely old things?


I think the CRT is still good so I could make my own circuit to handle that. I like the idea of the clock myself, I've seen a few that were really cool.


Re: Old Scopes

R Sweeney
2/13/2014 1:45:39 PM
As a rebuilder of old tubed Heathkit ham gear, you NEVER just turn on the power and see what happens.

The 60 yr old paper caps on these pieces are almost 100% quaranteed bad, open or shorted. And those bad caps can damage irreplaceable components on failure, like hard to find transformers. And a surprising number of carbon resistors crack with age.

So,

Step 0: get and read the manuals

step 1: replace the paper caps with modern high quality (non-Chinese) electrolytics

step 2: clean all the switches, pots, sockets

step 3: test the tubes

step 4: use a variac to SLOWLY bring up the line voltage to avoid in-rush issues with components which have not seen a magnetic or electric field for half a century.

step 5: if it works, rejoice, if not troubleshoot and find the dead guy(s).

step 6: Enjoy the rebirth of someone's old friend.


Sage advice! I cringed as soon as I saw the photo with the caption "Power on". Caps are easy to replace, but a burned out winding in the power transformer is usually fatal.


@R Sweeney - Excellent advice, and when I said it probably still works I should have added the caveat about the electrolytics. Written in haste.....

Very few people have a variac or a tube tester to hand. A test of the disconnected electrolytics with a lab PSU at maybe 50V is a good start. If you're in the US you could then use an isolation transformer (a must) and a rectifier with a beefy 10K resistor in series to put about 160V on them, Leave it on for a bit , monitoring the current (should go quickly to a few mA or less), to let them reform. But caps of that age will usually be dry (= low cap) if nothing else.

If you can just replace the electrolytics (which is probably the best way to go) then you'd probably be fairly safe in trying a switch on, with a meter across the main electrolytics - if the voltage does not go up to a few hundred volts right away then switch off and dig further.


Re: Old Scopes

R Sweeney
2/13/2014 5:42:36 PM
Some of the wonderful things about the amateur radio community is that it is seamless, universally friendly, helpful, and well equiped.

There is a HUGE following of vintage tubed gear and the folks with the knowledge and tools to restore gear are EVERYWHERE, willing to help with access to a vintage tube tester (no longer found in every drugstore) and autotransformers. And scopes and signal generators for that matter.

Find your local amateur radio club, attend a meeting, request help on a tubed project and it will be answered.




w.r.t. "I'm pretty sure that this type of power light would be considered a fire hazard by today's manufacturing standards "

Actually, its probably the safest part of the scope, the bulb runs off the 6.3v filament winding.

On the other hand, the rest of the exposed wiring will have hundreds of volts on it while running.

You really need to take heed of the advice offered, regarding conditioning electrolytics before powering up these old valve powered sets.

Have fun with it anyway! Its probably only useful for Lissajous figures, or maybe with a microphone, or sonar, these old scopes aren't much use for troubleshooting modern electronics, as they are AC coupled, non calibrated, and have almost non existant trigger capabilities, with non linear timebases.






Re: Fire hazard

R Sweeney
2/13/2014 6:27:37 PM
The MOST dangerous thing about these old devices is the lack of a grounded chassis and three prong grounded line cord.

I have seen Heathkits with a fused NEUTRAL, which would allow a shorted power supply to blow the neutral, then pass full current 120v to the metal chassis. Most pre-war radios lack isolation transformers, which added cost.


But, you can add a safety grounded cord, and the rewards (even the smell) of restoring these old devices are rich.


I am most tempted to just use the crt as a display for something. I don't really have a use for an old and not particularly precise scope. However, a cool scope clock would be neat.


Re: Old Scopes

zeeglen
2/14/2014 9:24:19 AM
>Find your local amateur radio club, attend a meeting, request help on a tubed project and it will be answered.
Another great place for vacuum tube info is the "Fun With Tubes" Yahoo group. These folks are into restoring antiques of all types as well as modern tube equipment.

OMG, nice to see Lissajous figures cited, also see: http://edn.com/electronics-blogs/power-points/4418467/Time-tested-technical-tools-and-techniques


@Bill - further to Lissajous figures - many years ago Elektor magazine did an article entitled "Spirographics" - using a scope to make patterns like the old "Spirograph" drawing set which really just made complex lissajous figures. I had a Spirograph when I was a kid. I still have it somewhere (the article), maybe one day I'll get around to making one.......


I photographed this one last year at the MIT Electronics flea market. I'll go back this year, assuming winter ever ends.


Also found this HP 201-C Audio oscillator. Many more photos where these came from.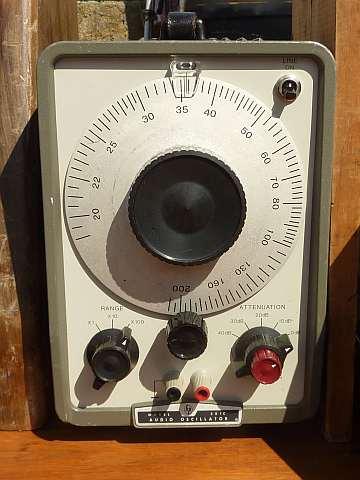 That is a newer one that could have been manufactured as late as the 1980's. I have one and use it and the HP 200CD all the time. I also have a late 30's or maybe early 40's HP200B that still works!

Enjoy the generator it is still a very good one!



Sam






Re: Found at MIT

J---
2/19/2014 9:09:01 AM
And here I thought I was one of the only ones with both a 201C and a 200B. I did not realize the 200B was that old. Mine still works fairly well, though it mainly sits on the shelf as decoration. I have had it about 25 years myself. The only thing I have had to do is replace the power cord. The insulation had become brittle and unsafe.


I am also circa late 50's and used this scope when I was a kid. For the younger crowd, an interesting aspect is the long neck of the CRT which is because scopes used electrostatic deflection rather than electromagnetic deflection. Faster, but a narrower deflection angle.


Re: Deflection

salbayeng
2/13/2014 7:05:00 PM
IIRC the long neck is required to get a good quality image,

A long electron gun is required to get a sharp colinear electron beam before it gets to the deflection plates. (otherwise you get out of focus spots, or oval spots that change with position)

The other reason for the length is to deflect the beam gently to improve linearity, deflection angle is proportional to deflection voltage, while the x position (on a flat screen) is tangent(angle) . If you use normal radio tubes , you only have ~ 100v of usable deflection voltage compared to say 1000v of acceleration voltage so you are limited to 1:10 deflection anyway, The other effect is that a fully deflected beam (at 100v) sees only 900v of acceleration, compared to 1000v on centreline

Shorter tubes have been made where linearity is not that critical.

see: http://www.crtsite.com/oscilloscope%20crt.html

PS the first "Oscilloscopes" were made ~ 120 years ago, i.e. they predate vacuum tube triodes by three decades, There are some nice photos here:

http://www.crtsite.com/page3.html

PPS variants of CRT's were used as memory elements in the earlier valve computers.




I love the look of these long tubes. That was actually the prime thing I was after when I saw this!


@Caleb: The surprising thing to me was when you took the cover off -- seeing how few components were used -- I was expecting it to be jam-packed with circuit boards and transistors -- I hadn;t realized it was vacuum-tube-based.


Re: Where did all the parts go?

Caleb Kraft
2/13/2014 9:03:44 PM
yep, beautiful tubes!


The plastic (with the grid on it) came from EICO with the scope.

kartys
2/13/2014 6:15:02 PM
Caleb said "An interesting feature you can see is that there is a grid on the display. This model did not come with a grid on the display; someone actually added it after the fact. You can see

the original without the grid here

. The grid is a piece of overhead transparency with a circle of acrylic cut to fit in the rim. It is held in only by friction on the felt ring." But Caleb is wrong: I built an EICO model 425 from a kit in the late 1950s, and it came with the round plastic with the grid on it. No one "actually added it after the fact." I still have both the round plastic and the scope, which still worked the last time I turned it on (over ten years ago). The vertical and horizontal amplifiers have potentiometers to adjust their gains, so they are not calibrated. Although there is no triggered sweep, it was still possible to fiddle with the controls to maintain a steady trace. But I never enjoyed using this scope any more after I started using Tektronix scopes in the mid-1960s.


Re: The plastic (with the grid on it) came from EICO with the scope.

Caleb Kraft
2/13/2014 9:03:14 PM
interesting! I assumed it was a home made addition due to how roughly cut the plastic disk was!


Re: The plastic (with the grid on it) came from EICO with the scope.

kartys
2/14/2014 1:33:00 PM
My original plastic disk is very smooth around its periphery. It has the graticles (grid) on one side, and they feel like they were painted on. It's a fairly heavy coating.


I syill have my old Tektronix double bean oscilloscope from 1958 (actually older than myself), still in good shape, fully operational (I just had to change a 6AN8 tube from the timebase).

This oscilloscope has a true differential input with 100microvolt per division sensitivity, I have never found this on new digital scopes. And last but not least, it does not take 10 minutes every time you use it to remember how to set it and finally get a trace on the display.


Re: Deflection

onthejob
2/14/2014 2:19:59 PM
Speaking of deflection... Sometime in the mid 1960s a friend of mine showed me an old (even then) oscilloscope that his dad had brought home from Cape Canaveral, where he worked (it was being thrown in the garbage). My friend doesn't even remember it any more, but I do. We were both in our early teens then. The scope looked something like this Eico scope.

But the reason I remember it is that we took the case off and looked inside and then powered it up. Of course the tubes looked cool (I love those orange and violet glows)! But there was also an orange glow from something that looked like a giant NE-2 neon lamp. I couldn't figure out why they would have this in there and it wasn't illuminating anything! My very first electronics project, a year or two earlier, had been to build an NE-2 neon lamp relaxation-oscillator "blinker" circuit.

I (much) later found out that neon relaxation oscillators were sometimes used in early oscilloscopes to generate the ramped voltage for the x-axis deflection plates.




Re: Deflection

zeeglen
2/14/2014 2:48:54 PM
>Onthejob

giant NE-2 neon lamp.
Voltage regulator tube perhaps? They do the same job as a zener shunt regulator.

Re: Deflection

onthejob
2/14/2014 3:24:13 PM
zeeglen,

Thanks for the REALLY interesting suggestion! Hadn't thought of that! Based on some things I've read, however, I still suspect the neon "lamp" was used in that ancient scope to generate a linear ramp voltage for x-axis deflection. I've never seen any other tube circuits that used a giant neon gas discharge tube as a regulator (but my experience is limited in this manner!).

Best wishes,

R. Steve Scott


Re: Deflection

Loren1
2/14/2014 8:45:40 PM
A large glowing blue or orange tube near the power supply section would almost certainly be a voltage regulator. These tubes usually had part numbers like OA2 or OZ3. Sometimes actual NE-2 neon lamps were used as voltage regulators. Better scopes tended to have at least one regulated voltage, but that didn't apply to the old scopes like the 425. Neon lamps were used as relaxation oscillators, but I can't recall a case of that in an oscilloscope circuit. They were also used as transient protection (much like a zener) on various input circuits.

I know of one case of a gas tube being used as the sweep oscillator, and this was the Heathkit model O-1 that came out just after the war, using largely military surpluus parts. This had an octal shielded tube in about the center of the chassis that was a gas tube. I can't recall the part number offhand, it was a fairly unusual tube.

Both Heath and Eico got their starts (for all practical purposes) selling low-cost test equipment shortly after WW II. There was a vast quantity of military surplus electronic equipment available, and this included parts like capacitors, resistors, switches, and tubes and sockets. The cost was pretty close to "dirt cheap" if you could afford to buy large lots. With this sort of very relible high-quality stock as a major component of any product, the companies could afford to make the unique parts like transformers, chassis, and rotary switches.

There were tens of thousands of men and women that had been trained in electronics during the war, so there was a ready source of customers for this sort of equipment. The TV repair shop was the 1950s equivalent of the PC repair shop of the last 20 years. Many a TV repair shop would be stocked with Heath and Eico test equipment. You would typically see a multimeter, a VTVM, a scope, and of course a tube tester.

Caleb's 425 was probably built in the 1960s. The blue-decorated faceplates were the original design from after the war. I no longer recall exactly when the design switched over; sometime in the very late 1950s, I think. Other than the cabinet change, and more reliance on commercial parts rather than ex-military, there were usually no changes to go along with the new case.

I don't know if Caleb really cares about whether these bits of antiquity work or not, but there is a chance that that scope is salvagable. As others have mentioned, there are lots of hams around that have equipment to test and repair it, if the main transformer or the display tube isn't blown. I'm hoping it was one of theose two fuses thet blew. Unfortunately they look from the pictures to be completely inappropriate 20 amp fuses, rather than the 1 or 2 amp fuses they should be.


Sometimes I care, sometimes I don't. This one may never be a functional scope again, but that crt will be put to use. If I don't end up using it, I'll find someone who wants to fix the entire unit.