VT100? You're just a pup.

betajet
7/2/2014 2:37:49 PM
Pfui. The only way to get started is punched cards, paper tape, and toggling in the RIM loader through the PDP-8 switch register. Them newfanged "glass teletypes" will only lead to trouble. You kids get off my lawn! :-)

I've never heard of gweeps. It must be a WPI thing, since gweep is almost an anagram of WPI. When I was an undergrad, programmers had Rasputin-like long scraggly beards, carried around boxes of cards, consulted documentation in huge binders filled with cabalistic incantations, and were generally regarded as all-powerful druids.

All that ended when you could buy floppy disks at K-mart.


@betajet

Click on "Gweeps" at the top of the article for a link. Yes, it's a WPI thing. Supposedly the name came from terminals pre-VT100 that would beep whenver you touched a key. That was before my time.




Re: VT100? You're just a pup.

betajet
7/2/2014 3:04:32 PM
Guinea pigs also go gweep, gweep, gweeeep. Either that or jeep, jeep, jeeeeeep.




A few years after graduating, I returned to my fraternity house and was appalled. There was a TV-100 in the second floor landing, connected over an acoustic dialup modem to the school VAX computer. A great convenience, but it meant the gweeps had taken over sacred space.


Martin, I was wondering if you remembered WHY they were called GWEEPs? While I attended the same school (WPI) I started out a CS major then quickly changed to EE as I wanted to build not program computers. The noise that those terminals made sounded like "gweep", sort of a high pitched spikey sound and that is where the term arose from.. Just thought I would mention it...



Now I program much more than I will ever get to build computers as they have become fully integrated onto chips. Back in my earlier jobs I designed an array processor with TTL LSI and MSI components!! 15 by 15 inch boards and lots of them!


Re: VT100? You're just a pup.

RGARVIN640
7/2/2014 3:01:29 PM
You are not old school unless you used punch cards to enter your programs. My first embedded programming was with an Altair 8800(?) toggleing switches. Then got to work with a 6803 system writing assembly language and storing them on the 8 inch floppy!! First system design was a 6502 based cpu, so wrote assembly code on an Apple II computer.


I did use punch cards my freshman year and I don't miss them. I don't miss floppy disks, either.


Re: VT100? You're just a pup.

RGARVIN640
7/2/2014 3:24:08 PM
I don't miss them either, as I paid $350 for my first floppy drive. An Apple II with 147K storage capacity! Woz was the man. New EE's now do not have a clue on how much easier things are now, compared to back then.


New EE's now do not have a clue on how much easier things are now, compared to back then.

And yet, we work more today than back then. What went wrong?


Re: VT100? You're just a pup.

betajet
7/2/2014 4:02:29 PM
Martin wrote: And yet, we work more today than back then. What went wrong?

While some things are indeed a lot easier now -- my favorite example is being able to capture transient events using a digital 'scope -- many things are much harder. In particular, it's much harder for a CPU to talk to I/O devices. My favorite example of this is that the PDP-11 Peripherals Handbook has a chapter called "Programming" which covers how to write I/O programs in PDP-11 assembly language using both busy-waiting and interrupts. The chapter is eight pages long.

Nowadays device-level programmers have to deal with Windows or Linux device drivers, which require understanding thousands of pages of arbitrary complexity, and modern SoCs require hundreds or thousands of lines of initialization code just to get started.

Another example is USB. If you're using a properly-designed USB device, it's really easy: you just plug it in and it installed as if by magic. If you're writing the software to implement that magic, it's a nightmare.


IO programming: that's why some test stations still run Win98 and older versions of Windows and Even DOS. You had direct access to the IO port. that was changed and made much more complex for security reasons or for Microsfot to make more money.


Re: VT100? You're just a pup.

Mbt_#1
7/3/2014 2:23:22 PM
I agree. I am currently writing my first USB program, and it is amazing how complex the communication protocols are for USB. The old serial (RS-232) protocol was much simpler.


While tools have improved to make things easier, designs are becoming much more complex. The amount of knowledge required to implement designs has significantly increased compared to the days of old.


Re: VT100? You're just a pup.

betajet
7/2/2014 3:24:32 PM
The great thing about punch cards is that you can fold them into missiles and launch them using a rubber band. They're really dangerous: the point is sharp and they'll go quite a ways into acoustic tile ceilings.

Try doing that with a flash drive :-)


I only took one programming course during college, FORTRAN, and LOVED it! This was during the 1970's and everything was punched cards. So when my account ran out of money, I would fish through the trash can in the computer lab to find JOB cards with valid account numbers. That was easy because the JOB cards were pink and all other cards were beige. I continued programming in FORTRAN for the rest of college using other peoples money. (For you younger programmers, you had to pay for computer time in those days.) Just in case someone discovered what I was doing, I would usually submit the cards and leave, then return a couple of hours later to retrieve the print out.


I heard the term Gweep back in the old DOS days, but not since then. I don't think i ever qualified as one.....


Hmmm Max hasn't commented yet. Could be be a Gweep in disguise?


@MB...mention the fact that Gweeps are known to be fond of bacon and I am sure he will chime in :-)


@David: ...mention the fact that Gweeps are known to be fond of bacon...

Ah ... maybe I am a Gweep

Reminds me of the joke where a cat is walking outside its house in the middle of the night and it hears a rustle in the bushes, so it says "Whoever is in the bushes come out right now!"

And this small mishapen man-like creature comes out. And the cat says "what sort of creature are you?" And it replies "I'm a goblin." The cat says "I've never heard of that before, what does a goblin do?" The goblin replies, "Well, sometimes I stand outside the house singing songs, which sound horrible to humans and keep them awake, and other times I sneak in through the catflap and throw-up and crap all over the house.:

The cat thinks about this a while, and then says, "Hmm, maybe I'm a goblin too!"


@MB...mention the fact that Gweeps are known to be fond of bacon and I am sure he will chime in :-)

Sure enough, Max chimed in, not that Max ever really chimes in. It's more like a burst.


@MeasurementBlues: ... not that Max ever really chimes in. It's more like a burst

Obviously your train of thought was cut off -- I think you meant to say "A burst of sparklingly witty conversation that brightens my day and lightens my life."

You're welcome :-)


@MeasurementBlues: Max hasn't commented yet. Could be be a Gweep in disguise?

Come over here and say that! :-)


Come over here and say that! :-)

I would if I could, but you live in a flyover state. I'll wave next time.


@MeasurementBlues: I'll wave next time.

I'll wave back :-)


We retook the term "gweep" from people who used it as an insult over 20 years ago. These days gweep.net includes musicians, theatre techs, embedded programmers and hardware designers, graphics designers, sysadmins, and surprisingly few straight-up programmers doing narrowly-focused coding.


solipsistnation welcome to EE Times. How did you find this post?


I have a friend who subscribes (and who also went to WPI), and she pointed me at it. I mostly think it's funny that anyone who isn't us still uses the term at all. I started at WPI in 1990 (making me a total newbie, I know) and by then use of "gweep" had changed from the Jargon File definition to "GweepCo," a loosely-organized group of friends who thought it was a funny thing to call themselves, and who weren't all CS majors. That was the high point of using WPI's computer system to stay in touch socially-- we had a precursor to today's instant messaging systems that ran on the unix systems at WPI, and we were heavy users of mailing lists and usenet and IRC for social purposes. "Gweep" stopped meaning "programming nerd who should get out more" and started meaning "Person whose social life is pretty much organized using the unix systems."


For the record, I do agree with the point of the article-- I've known some very narrowly-focused coders who certainly could have gotten out and done more interesting stuff.

And WPI did admit women. I'm married to one of them. 8)


solipsistnation,

I graduated 10 years before you arrived. Visted the campus last year to see the robotics program. Impressive. I was amazed at how many women were there. It was about 10% in my time.

When I first started suing the internet, it was with a dialup connection and a Unix prompt on The World http://theworld.com/. I remember using that IM and usenet. The World is still in business, but I have no idea how they survived.


Re: Hey now.

del_ee
7/3/2014 11:09:28 PM
As soon as I read the headline I knew it had to be a reference to WPI. Who else would use it?



My roommate was a gweeper. The only time he could get time punching cards for software was in the middle of the night, so he always snuck out in the middle of the night to "WACCC" off to do his work.



He was not a total gweeper though. He partied hard, huh Mr E.?

Most gweepers had no life.



I was an EE, have not heard the term since I left over 30 years ago.


Re: Hey now.

megazone
7/4/2014 1:15:54 AM
Ah, The World. Better known to early Internet denizens as world.std.com - the first commercial ISP, run by Software Tool & Die. I too was an early user, with an account within their first couple of years of operation. I had a world.std.com address for quite a while.

I'm also a latter-day WPI Gweep and GweepCo member (hi Solipsistnation). I did the five year plan 89-94, since I couldn't make up my mind. I was an Aerospace major, then jumped to the Technical Writing program when that was first created. And I ended up accidentally tacking on a double major in History of all things (Yeah, from WPI - who knew they had a History program? I didn't until I fulfilled it with electives). I also did half of the CS program (my TW degree's 'tech' aspect was CS). With that mishmash my career has included network engineer, security, software development, web development, beta management, IT Director, and various and sundry other areas.

It was actually the unconventional curriculum that attracted me to WPI in the first place. And in my 20 years since I left I've found that engineers from other schools tended to be more narrow than those from WPI, because of WPIs humanities and project requirements. The old "WPI Plan", with the single exam, was dead by the time I arrived. Replaced by the new "WPI Plan" with somewhat more conventional grading (though you still couldn't 'fail' a class - it was A,B,C,I (Incomplete) or NR (Not Recorded)) and projects.

WPI still has the Humanities Sufficiency, the Interim Qualifying Project (IQP - Junior year) and Major Qualifying Project (MQP - Senior year), and I believe the focus on project work and the requirement to take classes outside of your major track makes a real difference. Having exposure to areas outside of the narrow focus of a tech major has defnitely been beneficial in my career. You can have all the good ideas in the world, but it doesn't do much for you if you can communicate them to non-technical people as well (read: management).

I arrived at WPI at a time of transition. The old WACCC in the basement of the library was still in use, though generally just called the CCC (Campus Computing Center). 'Worcester Area' no longer applying as other schools had their own computing centers by then. During my time there the new CS building (Fuller Labs) was constructed and we moved into the gleaming new CCC.

VT100s were still around, though replaced by VT220s. Then a growing number of DECStations and PCs. They finally wired the dorms after I left and I think all the public terminals were removed shortly afterwards. Who wants to trek down to a public space to use a VT220 when you have a PC in your room?

As for the gender mix, WPI was 7:1 when I entered. I hear they're up to 3:1 now. WPI has changed a lot - they *finally* got a campus center a few years ago. The huge new athletic complex opened last year. They have an entire new campus complex down the street at the new Gateway Park, including a brand new dorm. I still live in the area, and there have been quite a lot of changes in the past few years.


@megazone :"jumped to the Technical Writing program"

I might have done that had it existed during my time (1976-80) given waht I've been doing for the last 22 years.


world.std.com

I had one of those e-mail addresses too. I gave them up on The World when a competitor, Galaxy Internet offered DSL service but The World had only dialup.

Galaxy went out of business last year. They transferred my DSL to DSL Extreme about a year before that. I still use DSL Extreme because of their excellent tech support.


Oh yeah. I passed my Comp on the first try.


Shame on you.

mik3cap
7/4/2014 10:42:15 AM
Bullying and elitism like this is one of the reasons why people with more diverse backgrounds don't go into STEM. What is even the point of the article in the first place, besides reminiscing about putting people down?

Hi, WPI CS major here. I'm quite happy to be reminded of good college times by the use of the word gweep, with my only negative experiences tied to "being a gweep" including extensive bullying from fraternity types. It all made me quite proud to be a GDI as the frat boys like to call us non-frat people, and even prouder to be a "wedgerat", as the bullies (people like the author) liked to call people who congregated in the common area between dorms that was one of the only common spaces before a campus center was built.

Here's hoping that technical industries will eventually progress beyond childish name calling and move forward into more inclusive and less elitist pastimes.


I was an indirect victim of the bullying in my freshman year. My roomate was a chemistry major. The losers on the dorm floor called him "The Dork." He did nothing but study and did look the part. He always went home on weekends. We would often find writing in shaving cream with the word DORK on the door, usually put there on Saturday nights when people were drunk (drinking age was 18 at the time).

I would tell these jerks to grow up and then look like the defender and take some criticism, but I knew I was right.

My roomate was under tremendous pressure from his family to excel academically. On the next-to-last day of D term, I awoke and found him passed out, half on the floor, half on his bed. We called security and he was taken to the hospital where he died at age 19. I never found out that actual cause. It didn't matter. He never drank or did drugs.

The bullies didn't feel like bullies that night, May 24, 1977.

I ended up taking my CS course final over the summer because of that and because I was home the previous week with the chicken pox.


Re: Shame on you.

betajet
7/4/2014 6:59:33 PM
That's a very sad story. Thank you for sharing it, and doing what you could. Unfortunately, bullying is rampant in USA educational and other institutions, and from what I've seen the people who run these institutions way too often tacitly or actively encourage it.

The drinking age is now 21 in most USA states, but student drinking is probably worse now than it was then.


Re: Shame on you.

del_ee
7/4/2014 9:07:12 PM
I don't get it. I was bullied from 7th grade til 10th, so I know what bullying is. I had butch hair in the 70s when all others had long hair, tell me about it.



I never felt anyone did any real bullying at WPI. I knew pretty much knew most of the students of all the classes of those in the early 80s, and no one really bullied anyone. I felt that it was great to finally be in an environment where that did not occur. Sure, people joined fraternities and had their little cliques, I joined one as well. There were Gweepers in my fraternity that had fun with the concept. I went to all the other fraternity parties and for meeting with friends, and as weird as I was, I was accepted there without threat of harm, mentally or physically.

I knew who the weirdest of the weird were, maybe you could call them dorks, but they seemed to have a good time in their clique.

With my son growing up, he had a hard time with others. In Junior high, he would react anytime anyone stuck up their middle fingers at them. What I had to explain to him, that which I wish someone had to explain to me, is that that was just the way middle schoolers say high. Then when you react angrily, they see that they can push your button and dig harder. I just told him to not internalize it, just wave and smile, and he made friends. He is now very popular in school with all other students, popular and weird.

I agree that there are instances where people continue with poor actions without stopping to think, perhaps because they were outcasts at some time and feel a need to push back, I was not a witness to that and would not have stood for it if I did. There were people who did not want to join a fraternity (GDI), another term people used jokingly. I had friends who were GDI as well (I shall not spell out the acronym as some people may be offended for other reasons) . I suppose you could take that derogatorily as well.

Gweeper was a term for fun, describing those that went to the computer center to do their work in the middle of the night. I suppose it could be hurtful to some if overused in a mean manner, but at the same time, we grow up and move on.

I have been to quite a few of the reunions, and found that all that attend accept each for who they are in a positive manner. I am happy to say that all my gweeper friends went on to happy productive lives.




There was some serious bullying at WPI when I was there. There was a particular frat that was well-known for it, including some nasty stuff like throwing firecrackers at people(!) and stuff like that. It was pretty bad. It didn't matter if the "dorks" "seemed to have a good time in their clique," there were always people willing to shout things/throw things/be generally threatening.


I was at WPI in the early days (1976 to 80) of the plan, though not at the beginning, which as 1973 I think.

Those were the years of the competency exam, or "Comp" as we called it. For those not familiar with WPI or who came later, the EE comp was a five-day take-home exam.

Day 1: You were given two or three deisgn problems from area of concentration (analog, digital, control systems, semiconductor physics, etc.) and you chose one. later that day, you met with the head of your review board, which consisted of three professors. The meeting was to make sure you understood the problem.

Day 2: after working all day and most of the night and morning, you met with the full board and showed your progress. Your board would give some help if needed.

Day 3: You worked all day and night on your design problem and wrote your report.

Day 4: You handed in your final report and tried not to think about how you could have done a better job. But, you did anyway and that could ahve been a good thing to prepare for your final review meeting.

Day 5: You met with the review board, then hoped you passed.

Day 6: You went to the department office to receive your grade. If you passed, you ran down the halls and into the street jumping for joy. Some would jump and yell "I'm competant" while feeling that they could conquer the world.

Then you graduated and took a job where learned that you hardly knew a thing.

The comp was killed around 1986. Best thing WPI ever did. Many of those who went through the Comp complained that it was what made WPI different from other schools. I think they felt that the school had lowered their standards by dropping the Comp. All it did was give you a false sense of confidence.

In my days, we didn't have A,B,C grades, just acceptable and distinction. The A,B,C grades were implemented later because some graduate schools wanted them.

It was actually the unconventional curriculum that attracted me to WPI in the first place. And in my 20 years since I left I've found that engineers from other schools tended to be more narrow than those from WPI, because of WPIs humanities and project requirements. The old "WPI Plan", with the single exam, was dead by the time I arrived. Replaced by the new "WPI Plan" with somewhat more conventional grading (though you still couldn't 'fail' a class - it was A,B,C,I (Incomplete) or NR (Not Recorded)) and projects.


Re: Shame on you.

AZskibum
7/7/2014 11:30:51 AM
Indeed, I find this to be an odd and rather sad story, despite it being wrapped in fond reminscence. Whether there was actual bullying, or just the creation of a word that was used as an insult, the story suggests one of the many reasons that we don't have greater numbers of well-rounded, intelligent young people majoring in STEM fields -- social ostracism among their college peers.


@Betajet,

It was quite a week and a half, first with the chicken pox and then my roommate's tragic death. I had two exams on the last day. I took one and the CS professor let me come back two weeks later to take the last exam.


Hail from another wedgerat and GDI who well remembers the VT 100s. Don't know where the original author was coming from as an EE myself. I knew a lot of CS majors who were'nt anything as he described. Aww well, some never learn. Were you around 83 to 88?


VT100

seaEE
7/4/2014 12:54:16 PM
My first job used a VT100. I was given a brochure describing the VI editor and began writing specs using VI. A few years later we upgraded our VT100s to X-Terminals for graphics capability and began using Framemaker. My network name I chose for my X-Terminal was viking. But did it stand for the norsemen, or for VI-king? :)





Datasheets.com Parts Search
185 million searchable parts
(please enter a part number or hit search to begin)
June 2016 Cartoon Caption Contest " Virtual Un-Reality"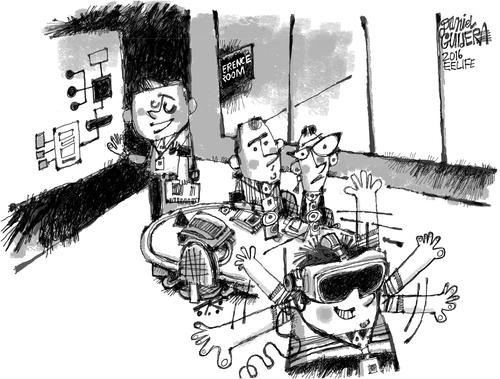 "Your caption here!"

143 comments





6/29/2016
3:47:09 PM