EMC 2014 Keynote: EMC's Past & Future
RALEIGH, N.C. — The EMC business has many consultants, engineers companies hire to troubleshoot emissions and immunity problems or to provide EMC education. While there are many good consultants, none is more respected than Henry Ott, who gave yesterday's keynote address here at the 2014 IEEE International Symposium on Electromagnetic Compatibility.
Ott was one of the first engineers to write a book about EMC when he published Noise Reduction Techniques in Electronic Systems in 1988. The book is now out of print, replaced by Electromagnetic Compatibility Engineering, on sale here at the Symposium.
"EMC started in the 1930s in the US Army when electronic equipment started interfering with AM radios in Jeeps," Ott told the engineers in the audience. "That led to the first RFI [radio frequency interference] standard published in 1934." It wasn't until the 1960s that a more comprehensive standard, MIL-STD-461, and its companion, MIL-STD-462, were published. At the time, MIL-STD-461 covered emissions limits, and MIL-STD-462 covered how to perform the tests. The two documents have since been combined into MIL-STD-461, which will soon be published as MIL-STD-461G.
"EMC can have hazardous consequences," said Ott. He cited examples of the USS Forestal and HMS Sheffield. The Forestal had a fire in 1967 that was caused when a radar scanned across aircraft on the ship's deck, causing one to fire a missile. The result: 134 people killed because of an improper termination of a connector. The HMS Sheffield was destroyed because of EMC. The ship used satellites to communicate to Britain from the Faulkland islands. These communications interfered with the ship's radar warning system, as an Argentine fighter ship launched a torpedo at close range. Although the torpedo was a dud, the close range meant it had enough fuel to ignite and cause a fire on the ship.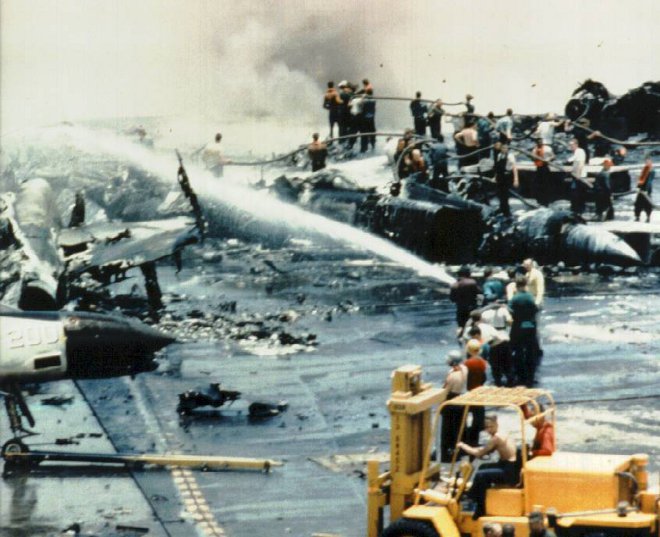 Ott also cited how the popularity of CB (Citizen's Band) radio in the 1960s and 70s led to new EMC issues where the CB radios interfered with TVs and other equipment. This led to the drafting of what we call FCC Part 15, a standard for radiated emissions. (I'll relate my personal experiences on interference from my father's CB radio in the comments.)