UNH-IOL Selected as G.fast Test Lab
Durham, N.H. -- The Broadband Forum has announced the selection of the University of New Hampshire Interoperability Lab (UNH-IOL) as the official test lab for the latest upcoming iteration of DSL, known as G.fast. The UNH-IOL is currently the only official test site for G.fast products.
G.fast, based on the G.9701 draft standard, is growing from the need for short range, high-speed data communications over copper to homes and businesses. The grand plans for bringing fiber directly to most homes proved too expensive. The figure below, published in 2007 from Verizon's last mile, shows fiber coming to a box mounted on a home and copper wire inside the home. As a general rule, this isn't happening. Instead, fiber will more likely run to a distribution point where data switches from fiber to copper over existing twisted pairs or coax cables.
G.fast expands data rates by using wider bandwidth than other forms of DSL, initially up
106 MHz
with the possibility of expanding to 212 MHz. UNH-IOL staff engineer Lincoln Lavoie explained the data rates and distances of G.fast.
The target maximum speed of G.fast is aiming for 1 Gbit/s for the combined downstream/upstream rate (the split is configured by the operator, i.e. 80/20).

As for speed and reach, the current draft of the standard is quoting the values below



500 to 1000 Mbit/s on a copper wire pair shorter than 100 m
500 Mbit/s at 100 m
200 Mbit/s at 200 m
150 Mbit/s at 250 m
500 Mbit/s at 50 m, while operating in the band above 17 MHz

The transceivers are able to adapt to the channel and noise conditions, so real hardware rates may vary based on the test conditions. I have seen a demo at Broadband World Forum this week with speeds of 500 Mbps at 100 m.

There are also other factors in play here, such as excluding the 2 MHz to 17 MHz bands to allow co-existence with VDSL2 in the same binders, which will also affect the total bit-rate.

The ITU-T is expecting the final consent of the G.9701 standard to occur in December 2014. They have currently resolved about 50% of the last call comments as of today, and have another 2-week meeting in November to finish with that work.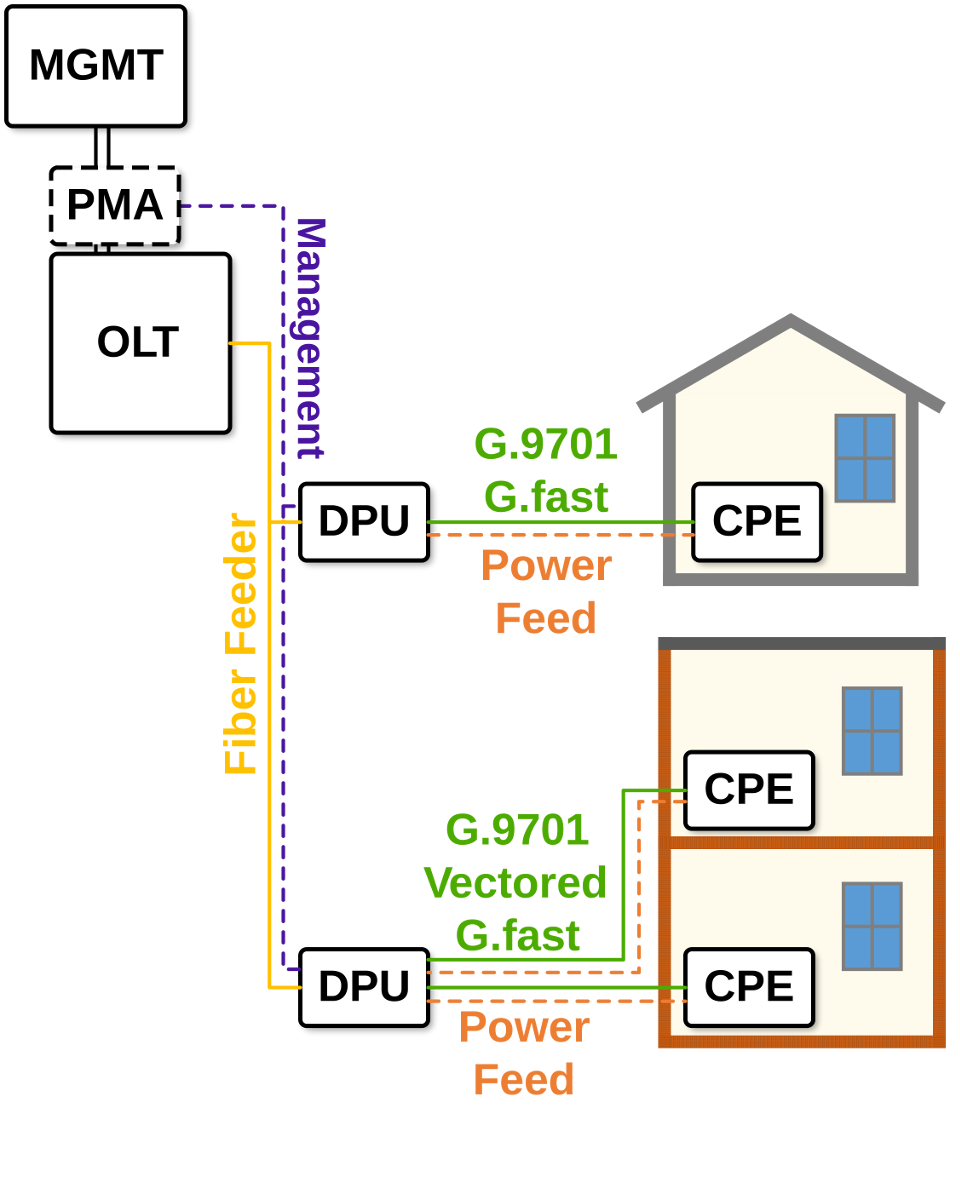 The UNH-IOL will hold a G.fast plugfest in Durham on January 26-30, 2015 with additional plugfests to follow about every 6 to 8 weeks. Plugfests provide an opportunity for equipment manufacturers to test their products for interoperability. In the case of G.fast, interoperability is between the DPU (demarcation point unit) and CPE (customer premises equipment). Early plugfests typically involve chips and reference designs, with equipment makers coming later.
The UNH-IOL announced a G.fast Consortium. Member companies have access to the lab's test bed and expertise for testing outside of plugfests.
Related articles: