Samsung, Apple Remain Top Chip Buyers
SAN FRANCISCO—Electronics heavyweights Samsung Electronics Co. Ltd. were the top buyers of semiconductors worldwide for the sixth consecutive year in 2016, accounting for a combined 18 percent of all chip sales, according to a report by market research firm Gartner Inc.
The two companies, which are the runaway leaders in smartphone sales, consumed a combined $61.7 billion worth of chips last year, up slightly from 2015, Gartner (Stamford, Conn.) said.
"While [Samsung and Apple] continue to exert considerable influence on technology and price trends for the wider semiconductor industry, their impact has lessened due to falling expectations for future growth," said Masatsune Yamaji, principal research analyst at Gartner, in a statement issued by Gartner.
Despite competition from Chinese OEMs in smartphones, LCD TV and LCD panels in 2016, Samsung increased its consumption of chips in 2016 and its semiconductor design total available market (TAM) with 9.3 percent market share, up from 8.9 percent in 2015, according to Gartner.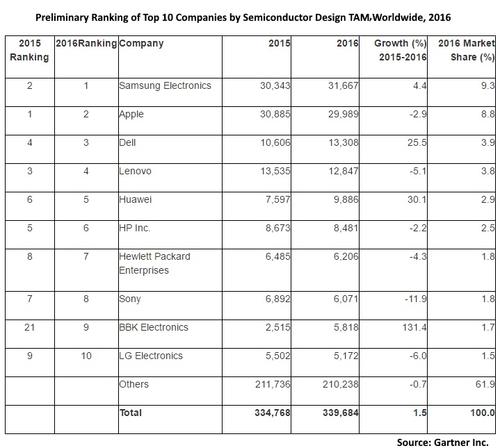 Meanwhile, Apple's design TAM fell to 8.8 percent in 2016, the first decline for the firm since Gartner began tracking it in 2007. The firm blamed lackluster sales of Apple's iPad and lost market share in the PC market.
Yamaji said chip vendors can no longer rely on just a few customers because of rapidly changing market share. "Even though the influence on the semiconductor industry of the top two strongest OEMs is weakening, the combined design TAM of the top 10 companies outperformed the average growth rate of the total semiconductor market in 2016," he added.
Gartner's top 10 firms in semiconductor design TAM remained largely unchanged from 2015 to 2016. Cisco Systems dropped out of the top 10, replaced by Chinese smartphone OEM BBK Electronics, which grew by more than 130 percent in 2016, Gartner said.
Four of the top 10 companies were U.S. companies, while three were based in China, two in South Korea and one in Japan, Gartner said.
—Dylan McGrath covers the semiconductor industry and business news for EE Times.