A Roadmap to Emulation of 15 Billion Gate ICs
SAN FRANCISCO—Mentor Graphics Corp. is breaking with EDA's standard procedure, rolling out an emulation platform that the company says supports a roadmap to 2022, when it will be capable of handling chip designs with 15 billion gates.
"This is not a typical EDA announcement, because we are announcing a platform that basically will carry over for five years," said Jean-Marie Brunet a senior director of marketing at Mentor, in an interview with EE Times. "We aren't going to come back in two years and say, 'Forget what we said in 2017, here's a new platform.' Everything that we are going to do for the next four to five years is around that Veloce StratoM platform."
Emulation is a bit different than the rest of EDA in that it relies on a very costly hardware component. According to Brunet, today's most cutting edge chip designs—advanced CPUs, GPUs, CPU and GPU combinations and network processors—feature about 1.5 billion gates. By 2022, Mentor expects that number to increase tenfold to reach 15 billion gates.
The Veloce StratoM is already in use by major chip companies, Brunet said, adding that he could not identify them. The emulator is capable of 2.5 billion gate capacity when fully loaded and the total capacity increases as the number of emulators are connected together via Mentor's Veloce Strato link, he said.
The emulation platform is aimed initially at the most advanced chip designs. But because it is scalable, Brunet said companies that are designing chips with fewer gates are already looking at it for the future."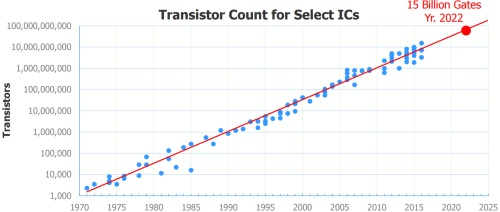 "We are looking at the high end," he said. "We are not looking at the small IoT guys that are around 65nm. We are looking at, as of today, who is in 2017 the leading edge in terms of size. Because those high end customers in size, they are the ones driving the ecosystem in our industry."
Brunet said Mentor has been guilty of not communicating much about its emulation roadmap in the past. Mentor tends to be a conservative company when it comes to making claims about product performance and capability, he said.
"By the nature of being more conservative, customers feel like you don't really have a roadmap," he said. "Well, we do have a roadmap, and that's what we are changing. We feel so comfortable with what we have here that we are going to talk about the roadmap."
The Veloce StratoM has available slots for 64 advanced verification boards and consumes up to 50KW (22.7 W/Mgate) of power when fully loaded, according to Mentor. The company claims performance improvements over previous generation systems including total throughput up to 5X (fastest compile-runtime-debug sequence), time to visibility up to 10X, compilation time up to 3X and co-model bandwidth up to 3X.
Brunet declined to provide information about pricing of the platform.
—Dylan McGrath covers the semiconductor industry and business news for EE Times.