Chip Equipment Billings Hold Steady
SAN FRANCISCO—North American semiconductor equipment manufacturers reported $1.86 billion in worldwide billings in January, down 0.5 percent from December 2016 but up 52.3 percent from January 2016, according to the SEMI trade association.
January marked the first time that in more than 25 years that SEMI stopped reporting North American equipment vendors book-to-bill ratio, a ratio of monthly order bookings to billings that was considered a key metric for the equipment industry. SEMI (Milpitas, Calif.) said it ceased publishing the book-to-bill ratio due to changes in reporting by some participants.
"Global billings reported by the North American equipment makers begin the New Year at high levels," said Denny McGuirk, the outgoing president and CEO of SEMI, in a press statement. "We expect strong spending growth in 2017 based on investments in leading-edge memory and foundry fabs."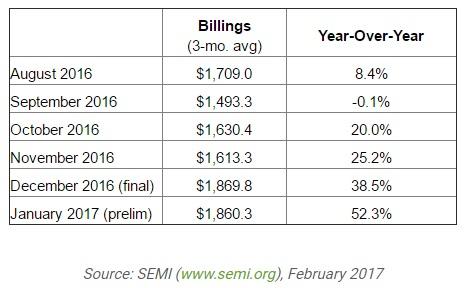 SEMI's billing report uses a three-month moving average for billings by chip equipment manufacturers based in North America.